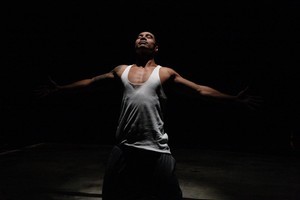 If there is such a thing as cultural gumbo, the play The Brothers Size would surely fit the description. African-American playwright Tarell Alvin McCraney has combined theatrical forms and techniques, old-world spirituality and new-world politics, imbued them with historical references which hint at the impact of the past on the present, and set the whole thing in the sultry Louisiana bayous.
Being a play about the troubled relationship between two brothers, it has a classic dynamic replete with biblical connotations - except McCraney has named the characters after West African deities and used elements of the Yoruba religion to tell the story.
Now Silo Theatre adds to the mix by using the cream of New Zealand's Maori and Pacific acting talent: Jarod Rawiri, Pua Magasiva and Te Kohe Tuhaka. But artistic director Shane Bosher wanted to ensure he wasn't moving too far from McCraney's vision and sought the playwright's approval before going ahead.
McCraney didn't hesitate to consent. "I am always thrilled when people want to do one of my plays, especially from the Brother/Sister plays which Brothers Size belongs to," he says. "It means that these experiments to speak of a specific place and time have somehow proved universal."
However, the 31-year-old playwriting prodigy, who grew up in Miami, one of the United States' most deprived areas, and watched his crack-addict mother die from an Aids-related illness, isn't about to second-guess what New Zealanders will make of it. "I try to make a piece of work that I relate to and hope that others find their way in as well."
He says you don't need to know about Yoruba cosmology to relate, understand or translate the play because it shares elements, as most religions do, with other belief systems. McCraney gives the lead character Ogun as a prime example, saying he's the god of iron who is said to be building a bridge between the world of the gods and the world of the living.
"Check out Kenneth Branagh's depiction of the Norse god Heimdall [in the film Thor]. Even with the controversy he stirred, he evoked a nod to not just Yoruba cosmology, but to the notion that all over we create these archetypes to answer questions about the world around us. For me it's when we began to add the human traits to these 'types' that things get interesting."
Bosher certainly thought McCraney's play was interesting - and original, powerful, emotional and intellectually engaging. He first heard about it while in London doing professional development at the Young Vic theatre in 2007. Back then, The Brothers Size had just made its London debut and was up for a prestigious Olivier Theatre Award.
Later, Bosher noted the famed Steppenwolf Theatre Ensemble had programmed McCraney's Brother/Sister series of three plays - of which The Brothers Size is one - and invited McCraney to join the ensemble. Bosher figured he should read the play to see what all the fuss was about.
"I read it in one sitting. I just had to finish it and the language was such that I had to read it out loud. There were sections in prose, sections in verse and I could feel its movement."
But Bosher didn't programme The Brothers Size immediately. He believed the feelings it could engender were too close to Silo's hit When the Rain Stops Falling and he was too busy last year to direct it himself. "And there was no way I was going to let anyone else direct it."
But it was catapulted back into his mind when actor Jarod Rawiri auditioned for another play in this year's Silo programme. Now, when asked why Silo is doing The Brothers Size Bosher nods his head in Rawiri's direction and says, "because of him".
"I sat there watching his audition and thinking of The Brothers Size. The decision that we were doing this play was made there and then. Jarod brings all the requirements needed - the spiritual, the emotional, the intellectual and the physical - to create a performance with visible soul."
Rawiri plays the straight-living, hard-working Ogun Size who reluctantly provides a home and, he hopes, a fresh start to his wayward younger brother Oshoosi (Pua Magasiva). Oshoosi, named for the god of the hunt, has spent two years in a state penitentiary where he has struck up a friendship with career criminal Elegba (Tuhaka).
Charming, but morally questionable, Elegba arrives at the family home and tempts Oshoosi to stray from the path Ogun wants him to walk. So begins a battle for the young man's heart and soul. Busy doing television work at the time, Rawiri had no plans to return to the theatre at the time but, like Bosher, he was seduced by the language, characters and themes explored in the play. Besides jumping between theatrical styles and combining movement with words, he says the actors speak some of their stage directions. "It's an intriguing device. You have, for the audience, the potential to let them imagine what will happen next, but leave them hanging and then possibly defy those expectations."
The Brothers Size started life as a workshop at the Yale School of Drama, where McCraney was studying. He's long been a fan of Shakespeare - in 2008 he was the Royal Shakespeare Company/Warwick International Playwright in Residence at the RSC - but says the play wasn't directly influenced by the Bard. "The love I have for Shakespeare is rooted in his love for carving from older stories, other sources, new theatrical experiences. Almost every play he's written has a source material. In truth, that play was written before I had gone to drama school or began working with the RSC. Its roots are in traditional street theatre, guerrilla political style theatre I used when I was about 13. Its rhythm is owed to dance, especially modern dance."
McCraney hopes his work broadens perceptions about America given there's definite stereotyping about his country's culture. "My hope is that by introducing more of the diverse peoples of [my country] to the theatre that the live performance art form will become a more true depiction of many worlds that have come together, in some cases collided, to make the United States of America. I work towards that by encouraging young artists, by working with young diverse audiences in mind and by giving a great deal of time and sometimes funding to young artists. I wish I knew more about the New Zealand audience ... but I always say whether in Zimbabwe or Ireland, Brothers Size is about brotherhood, and it aims to be a dialogue on the bonds, strengths and weaknesses of brotherly love."
Bosher gets the chance to learn more about the impact of McCraney's work, and observe some of America's most contemporary new playwriting, when he travels to the United States next month. He'll spend time at the Public Theater in New York, the first company to programme The Brothers Size after its initial workshopping at Yale. He'll also go to the Tony Awards and travel to Chicago to visit Steppenwolf.
Meanwhile, The Brothers Size marks a couple of firsts for Silo. The company starts a "deliberately provocative" conversational series called Open Dialogue so audiences can discuss its work in greater depth.
The first of these is next Tuesday and looks at the contentious issue of colour-blind casting. On Wednesday, it becomes the first Herald Theatre production to have a performance with sign language.
Performance
What: The Brothers Size
Where and when: Herald Theatre, to June 18