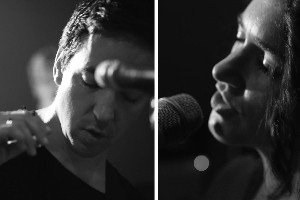 Jon Toogood's new band, The Adults, are hitting the road in July.
Forming a small but powerful trio with Shayne Carter and Julia Deans, who both played key roles on the Adults' album which is out on June 22, the band play eight dates around the country including Hamilton's Gravity Bar, July 14; Auckland's Bacco Room, July 15 & 16; and July 17 at the Leigh Sawmill.
The Adults project was initiated by Toogood last year during down time from Shihad. He started with a wishlist of some of his favourite New Zealand artists and then set out to write and record an album's worth of collaborations. The album includes contributions from Ladi6, Anika Moa, Tiki Taane, Shapeshifter's Redford Grenell, Little Bushman's Warren Maxwell, and Ruban and Kody Neilson from the Mint Chicks, among others.
"As a 39-year-old dude who has been involved in music all his life, it's music that I would listen to," says Toogood.
To take the show on the road, Toogood enlisted Deans and Carter because they can sing and all three are multi-instrumentalists, so there will be much swapping between guitars, keyboards and bass.
However, according to Toogood, before the first rehearsal Carter took a little convincing that the trio could pull it off live.
"But I watched him start smiling after a couple of songs and by the end it was, 'hmm, this is going to be great!' We'll be travelling light, but we're going to put on a big show."
In support are F In Math, the solo project of former Mint Chicks bass player Michael Logie, who releases his debut EP this month.
Tickets go on sale May 18. See the Much More Music website for all show and ticketing details.
Meanwhile, DJ Shadow and Modest Mouse are the first two acts playing Australia's Splendour In The Grass Festival in July to announce shows in New Zealand.
Also on the festival bill are headliners Coldplay, Jane's Addiction, Kanye West, the Mars Volta and Pulp. Fingers crossed some of that lot also cross the Tasman.
DJ Shadow, who's best known for classic 1996 debut Endtroducing ..., plays the Powerstation on July 26. Tickets on sale May 27 from Ticketmaster.
Modest Mouse - the American indie rockers who rose to prominence in 2004 with the release of the excellent Good News for People Who Love Bad News - have been quiet of late but are working on their sixth album. They play The Powerstation on August 1.
- TimeOut