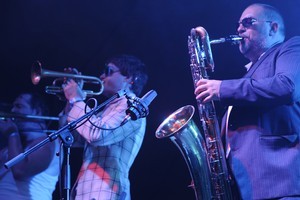 MOVIES
As well as the release of some film about pirates starring Penelope Cruz, this week sees the inaugural Spanish Film Festival showing at the Rialto until next Thursday. This is the first chance to see the award-winning Biutiful, the latest from Mexican director Alejandro Gonzalez Inarritu (21 Grams) which stars Javier Bardem.
As well, a highlight is the acclaimed animated feature Chico & Rita about a Cuban singer and a songwriter chasing their musical dreams - and each other - from Havana to the United States in the 1940s and 50s.
MUSIC
Gary Numan resurrects his 1979 synth-pop masterplan The Pleasure Principle at ASB Theatre on Saturday night. Numan was one of the pioneers of the one-fingered-synth-performance and is now hailed for his innovative brilliance, cited as a major influence by everyone from Depeche Mode to our own Naked and Famous, as well as being parodied by comedian Bill Bailey.
And local music-wise, as well as the series of Music Month gigs at The Whiskey in Ponsonby this week, Fat Freddy's Drop celebrate being home at Auckland's oldest venue, with gigs tomorrow through to Sunday at the Mercury Theatre.
TV
Gadget geeks can delight in the return of eccentric detective Sherlock Holmes and wayward British tardis-driver Dr Who this week. Replacing MasterChef is the first instalment of Sunday Theatre's Sherlock, a contemporary, three-part take on the famous story with Benedict Cumberbatch - yes, his real name - in the lead role.
eanwhile Matt Smith returns as the 11th doctor accompanied by his fetching assistant Amy Pond (Karen Gillan). They are off to America this week, exploring the desert and the Oval Office, as well as beating off aliens and spacemen.
OR...
Mime, 1980s musical, dark magic and mad attacks on hecklers have had Auckland in stitches for the past two weeks and comedians have one last chance to win giggles at the Last Laughs event on Sunday. The event will also reveal the winner of the Fred and Billy T Awards - bestowing upon one lucky up-and-comer a towel, and another, a gumboot.
- TimeOut