Shonda Rhimes, who created US tv's biggest medical dramas, talks to Jacqueline Smith about the shows and what's next.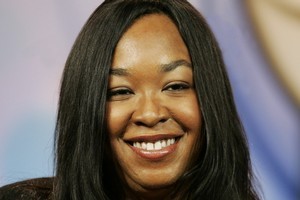 She's queen of the operating theatre. Not bad for a woman who struggled to pass science at high school. She perches on a director's chair surrounded by the syringes, clipboards and pharmaceuticals in the wards of her imagined hospital Seattle Grace and reflects on her TV empire. Grey's Anatomy is now in its seventh season and its spin-off Private Practise, is now in its fourth. She worked on Off the Map, starring Martin Henderson as a wayward jungle doctor with a Kiwi accent, and is now putting her writing skills to another project, currently at pilot stage and called The Untitled Shonda Rhimes Project, which is totally unrelated to the medical profession.
After all, she was a rather unlikely candidate for medical drama in the first place.
Shonda Rhimes says she was never destined for a career involving medicine.
I cannot do maths or science to save my life. I almost failed chemistry in high school. And also, sick people make me nervous. I don't do well with germs. So I don't think it would really work for me. I keep saying when I retire from shows, like from writing the shows, I'm going to go to medical school, just to see what it's like for real. That's going to be fun.
But she had been interested in the medical profession since she took a part-time position at a hospital as a teenager.
I was also a candy striper [hospital volunteer] in high school, which, in the United States, is, like, a teenage volunteer who rolls around and gives people flowers and magazines. In a fabulous pink-and-white striped outfit. That's why I became a candy striper, so I could have the outfit. That was pretty great. And I would wear my little outfit, and I would go twice a week, and I loved it. I didn't love any of the real parts of it, but I loved seeing all the doctors walking around. And the thing that you don't bank on is realising that those doctors are actually people who have their own lives and are gossiping and are crying and are talking on the phone to their spouses or whatever. That was interesting to me, even then.
And later, she started watching doctors on TV.
I was watching a lot of those documentary shows that, like, the Discovery Channel used to have where it was like, "I had a 200-pound tumour". That was one of my favourite episodes ever. You literally see them, like, remove a 200-pound tumour from somebody. I could not get enough of those and would watch them when I was younger and watched them when I was sort of a struggling writer. And when I became a mother, I started to watch them all the more because I was at home all day with the baby. And they're really fascinating to me. And those people in that world seemed really fascinating to me.
Then, she started writing a draft for a TV show, originally called The Untitled Shonda Rhimes Project, which was renamed Grey's Anatomy.
When I pitched the show, I remember saying, we're not all going to end up in jail, and we're not all going to end up in a morgue or in a, I don't know, CIA unit or FBI serial killer unit. But every last one of us at some point in our lives is going to pass through the doors of a hospital. It's a world that feels familiar. It's also very scary in the sense that we go there thinking, "these people are gods" and hoping they can heal us. We understand that they're human, but we don't want to see that. And everything is life or death. I think there's something about it that sort of hits our primal fears and our primal hopes.
Now in its seventh season, the show has introduced Meredith Grey, McDreamy, McSteamy, Addison (and her spin-off Private Practice), Chief, Dr Bailey, Izzie, Cristina, Alex, and Callie ... and built a loyal fanbase around the world. Rhimes sympathises with those who protest against some of the writers' decisions.
Sometimes when characters break up, I'm devastated. When Callie and Arizona broke up in Season 6 because Callie wanted to have a baby and Arizona didn't, I was like, "there's no love in the world".
And she admits that hurting her characters for the dramatic season six finale (repeating this Tuesday at 8.30pm on TV2) certainly took its toll.
It was such a dark subject, and I had started out the season saying, "we're going to have a shooting". And then when I sat down to start writing it, I got really depressed and suddenly realised that we were shooting our characters.
And in order to write that show in a way that made sense to me, you sort of had to put your mind in the mind of Gary Clark, who was doing the shooting, to understand why he would do what he did and where he was going and how to get our doctors out of it. So you had to sort of walk in his shoes when you're writing it. And that was really depressing. I'd come to the writers' room, and I would cry, and I would say, "I'm not writing this anymore". And the writers would go like, "We can do it. It's going to be fine." But it took a long time to write. It was very hard.
LOWDOWN
Who: Shonda Rhimes, the brains behind medical dramas Grey's Anatomy, Private Practise and the show starring Kiwi actor Martin Henderson, Off the Map.
When and where: The final two cataclysmic episodes of the sixth season of Grey's Anatomy repeat back-to-back from 8.30pm on Tuesday, on TV2. The seventh season of Grey's Anatomy starts at 8.30pm on May 17, directly followed by the fourth season of its spin-off, Private Practise.
- TimeOut