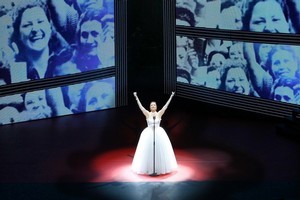 With more than 30 songs on offer, musical theatre's most successful composer is given a comprehensive retrospective in a package which includes all the blockbuster hits as well as some lesser-known gems.
The little-known works, rescued from various cancelled seasons, provide reassurance that not everything he touches turns to gold and remind us that Lloyd Webber is a hard-working artist who is not afraid to take risks.
Songs like No Matter What will be instantly recognisable from the Boyzone version that was a huge hit - but audiences may be surprised to learn that it comes from 1996 musical Whistle Down the Wind that never made it to Broadway.
It is impossible to say what sets Lloyd Webber apart. The songs often feel schmaltzy and sometimes dance across the line that separates pathos from bathos, but there is an unerring instinct for music that can raise goosebumps.
My guess is that his success comes from a willingness to embrace our deepest and most heartfelt emotions - the yearning for perfect love; hope persisting against all odds; the pursuit of happiness - all the kinds of things that would send more sophisticated composers screaming from the room.
The production showcases the enormous breadth of Australia's musical theatre talent and the performances definitely deliver.
Michael Cormick, who has starred in numerous international productions, holds the audience spellbound as he dives into the sweet intoxication of Music of the Night.
Delia Hannah is utterly believable with the confessional candour of Don't Cry for Me, Argentina and her sparklingly clear enunciation brings out the lyrical brilliance of Memory from Cats.
The younger cast members are also impressive.
The seven-piece band features three remarkably well-programmed keyboards that conjure up everything from a full orchestra through to a brass ensemble and a rock'n'roll band.
For me, the only dark spot came with digital media projections which ranged from mildly annoying to truly horrible bad-acid-psychedelia and a lurid stained-glass montage that stomped all over the tender emotions of Pie Jesu.