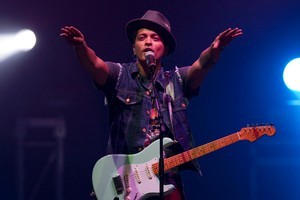 Bruno Mars' enamoured young crowd sings his lyrics right back at him, but none with more conviction than "I think I wanna marry you".
The 25-year-old Hawaiian pop star, whose off-stage name is Peter Gene Hernandez, is dressed like a polished version of Pete Doherty and bursting with Prince's energy and a barber-shop band's charm.
This is his first trip to New Zealand.
He's not only a hit with the ladies, though Just the Way You Are does turn them weak at the knees.
He's here to promote his album, Doo-Wops and Hooligans. The doo-wops are for the ladies, he says, and the hooligans are for the gents.
He lets loose on the drums and guitar before showing he has more suave in his strum than the average ukulele player.
It seems everything Mars touches is labelled a "hit" on the charts - his single Grenade, the pop numbers he co-wrote, including The Other Side featuring Cee Lo Green and B.O.B's Nothin' On You.
Then there are his covers of everything from Travie McCoy to Nirvana and Michael Jackson.
But Mars proves that just because he can write and sing his way up the charts, he doesn't have to be a sleek machine.
He and his fleet-footed band started in pubs, and they still have the uncorrupted energy of a band that has paved its own way, and last night's crowd fed off their easy-going, cheerful pop, soul, rock and reggae.
Much of the material is borrowed but the crowd don't mind, and seem to scream, Bruno, the others got Nothin On You.
REVIEW
Who: Bruno Mars
When: 18 April 2011
Where: Vector Arena