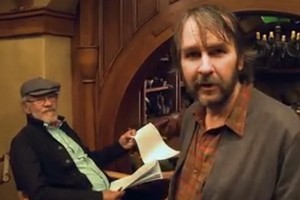 Peter Jackson has released the first production video from the set of The Hobbit movies now filming in New Zealand.
The 10-minute piece, which Jackson debuted on his Facebook page, returns to Hobbiton to show exclusive behind-the-scenes footage of the movie including special effects work, fight training, dwarf costumes being created and more.
"It's like a sort of a big wizard's workshop," Jackson said on the video as he toured the production.
Many of the sets and locations from Jackson's Lord of the Rings films have been recreated for the new films, which will be released in two parts in 2012 and 2013.
Several of the actors also appear in the video, including Sir Ian McKellen as Gandalf the wizard and Martin Freeman, who will be playing Bilbo Baggins.
- NZ HERALD STAFF