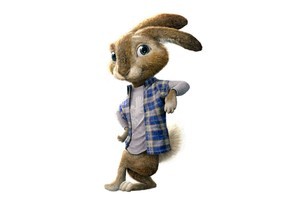 Mixing live action with animated characters like we've seen in other films such as Alvin and The Chipmunks (which Tim Hill also directed), Hop is technically fantastic.
It has a star cast of voices on board including Hugh Laurie as the current Easter Bunny and Russell Brand as E.B., his son and reluctant heir, but it's not enough to make this festive fable strike a chord.
On the eve of E.B. joining the family business, he freaks out over his responsibility to deliver chocolate to the children of the world, and runs away to Hollywood to become a drummer.
The animated bunny hooks up with another slacker, of the human kind, Fred (Marsden) and the two follow each other around causing chaos.
Hop is predictable, right down to the trip gags and feel-good ending. It doesn't matter how much effort Marsden throws at this flick or how cute the rollerblading chicks (as in baby chickens) are, Hop seems a bit too shallow and commercial.
It feels like an annual Christmas movie rewritten for Easter, and all that's missing is Tim Allen or Vince Vaughn saving the day.
Hop is like a large Easter egg that turns out to be hollow and empty.
No matter how hard the cast tries to bring this story alive it lacks magic and imagination and limps rather than hops towards its underwhelming ending.
LOWDOWN
Stars: 2.5/5
Cast: James Marsden
Voices: Russell Brand
Director: Tim Hill
Running time: 95 mins
Rating: G
Verdict: Lots of cuteness, light on laughs and originality
-TimeOut