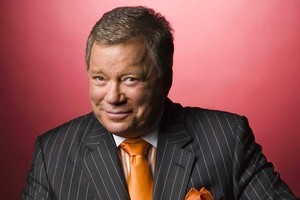 Live
William Shatner can no longer fit his Starship Commander outfit, but he has plenty of anecdotes from the time that he did. His live show Kirk, Crane & Beyond at the Civic this Friday will give Shatner a chance to describe himself to an audience.
Just how did the 60s pop culture icon Captain James T. Kirk, become Boston Legal's Denny Crane, and the man he is today - a social media boffin who is recording a metal album?
Movies
It's Nemo, the documentary. Oceans is an aesthetically beautiful, eerie film that gets up close and personal with the gills, fins and tentacles that rule the seven seas.
It's described as part-meditative, part-thriller and is voiced by Pierce Brosnan doing his best David Attenborough impression.
Elsewhere, just in time for the school holidays at the end of next week is the flamboyant animated film Rio (reviewed here) - said to be the next Madagascar - which starts today, and Russell Brand voices a rabbit in Easter flick Hop (reviewed here).
TV
Heidi Klum and the girls are back for another round of pins and needles in the eighth cycle of Project Runway, which starts tonight.
This season Klum is joined by actress Selma Blair (Cruel Intentions) who was selected for her chic and individual style. Blair will be making a crucial decision in this episode.
The show follows the final of New Zealand's Hottest Home Baker, also on TV3. And it is of course the final of The Almighty Johnsons - 10 episodes just aren't enough.
Or...
Make a flag or dress up as well, whatever you want, and head to Auckland Domain on Sunday to see the unpowered home-made vehicles hurtle downhill at the annual Red Bull Trolley Derby.
One hundred teams were selected from thousands of applicants, and will pit their well-honed gravity-powered trolleys against one another to tear down Lower Domain Drive - that's from the museum to Stanley St - for their crack at the first-place prize of $10,000.
-TimeOut