As The Almighty Johnsons heads to its first series finale Jacqueline Smith goes in search of the show's mythical home and ponders a second season.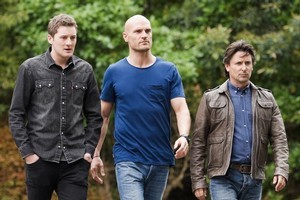 Here's another good reason for a second season of The Almighty Johnsons: so Dannevirke gets a chance to cash in on being the home of the gods.
Like Matamata did with Hobbiton. Kind of.
The show's main characters - Mike, Anders, Ty and Axl - are the human incarnations of Norse gods whose power-challenged forebears had roots in the Hawkes Bay town.
And the series, which finishes its first season next week, has frequently referenced immigrants who came from Scandinavia to New Zealand in the 1870s and founded Dannevirke.
The show's co-writer, James Griffin, is also from Hawkes Bay and his maternal grandparents were Swedes with the surname Jansen, a heritage which influenced The Almighty Johnsons.
Its first season has been well-received by its target audience - males who enjoyed Outrageous Fortune - and seems to have sat well with the very few people of Dannevirke who knew when and where to watch it.
But TimeOut's unscientific survey of residents of Dannevirke and nearby Norsewood - conducted by ringing random numbers from the phone book - revealed only about one in five residents had heard of the show, though some did think they could recall murmurings of it in the local pub.
Phil Grant, chairman of Norsewood Promotions hasn't been watching - he hasn't got a television - but is planning to watch it on demand.
"I have thought we should have been talking to producers, seeing if there was anything we could do. There are plenty of people who think they are gods," he says.
Dannevirke has long celebrated its history as a Scandinavian settlement and a Viking warrior welcomes visitors to the town, though some locals aren't quite so keen on the ties to all that Nordic paganism.
Last week The Almighty Johnsons' characters travelled to Dannevirke in pursuit of Frigg, the goddess that must unite with top god Odin - in the form of Axl, played by Emmett Skilton - so the brothers can regain their powers.
Julie Hedley from Norsewood was the only person TimeOut managed to find in the region who regularly watched the show, and she raved about it.
"I love it, I'm addicted to it," she says. She admits she was initially drawn to the series by the Dannevirke link.
"I looked over it and thought, 'oh well, I had better watch it because it does refer to Dannevirke', and the last episode I watched they were going back there. And I really liked that because you don't often hear mention of local areas on TV. It makes it really real."
"And the whole god-goddess thing is a familiar concept, so it rings true. When the handmaiden said to Frigg, 'You are a goddess. Not a woo-woo type one, a real goddess,' I thought that was neat, because a lot of people around the place, not just here, consider themselves gods and goddesses," she says.
Griffin and Rachel Lang had been asked to come up with a drama that appealed to males - an audience that tended to shy away from local comedy-dramas until Outrageous Fortune.
"We started off with a few unusual areas where men might congregate, sports teams, trucking firms, and none of them appealed to us.
"Then we started talking about how it would really suck to be a superhero in New Zealand because people would just look at you and go, 'what makes you so special, mate?' In this land of the tall poppy, to be special is a curse, not a gift," says Griffin.
Layering this with the Norse god mythology he was brought up with gave way to the blokey series.
New Zealand dramas are generally embedded in reality and many thought a show about people with superpowers was too risky, but Griffin says he was certain it wasn't just kids who could deal with fantasy.
"I thought, the Americans blend the supernatural and the real world quite naturally, so why can't we do it?"
Mediaworks TV is very happy with the way the show has gone, achieving ratings of 9.5 per cent among 18-to-49-year-olds and 9.9 in the 25-to-54 age bracket.
"We wouldn't compare it to Outrageous Fortune after one season, as it takes time for any show to build up, but The Almighty Johnsons has rated well for us and is popular," says publicity manager Nicole Wood.
Tim Balme, the head of development at South Pacific Pictures, who worked on the script and also plays eldest Johnson brother Mike, says he has been encouraged by the positive feedback.
"We forget, in the phenomenon of Outrageous Fortune, that not everyone liked it. I have had people saying 'I never really got into Outrageous but I really like this one', and there are other people who have come up and said, 'I was a real fan of Outrageous, I didn't want it to end, I didn't want to like your show but I do'."
He is confident that SPP will give viewers another round of the show. "It will go out on such an exciting, strong, poignant note, with lots of potential for more," he says.
-TimeOut