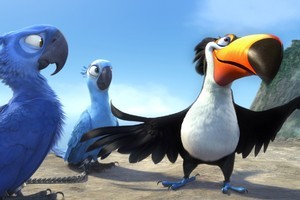 As you'd expect from a film called Rio, music, dancing and Carnival play a large role in this bright, glossy animated comedy from the creators of Ice Age.
It's a sweet story about a timid domesticated macaw Blu (Eisenberg) who must learn to fly, both literally and metaphorically. Themes of friendship and courage run through Rio but it doesn't get too hung up on dispensing life-changing messages; Rio is a fun party city after all. With exotic settings, passionate locals and a vibrant atmosphere Rio easily keeps the pace and energy levels high.
Before we get to samba though, we start off in snowy Minnesota where Blu has spent the past 15 years of his protected life living in domestic bliss with his companion, Linda (Leslie Mann).
When Brazilian ornithologist Tulio (Rodrigo Santoro) tracks Blu down he convinces Linda to bring him to Rio to mate with the only other known living blue macaw, a feisty young bird called Jewel (Hathaway).
Jewel is far from impressed by the flightless Blu, not that Blu's too fussed. He's out of his comfort zone and has other things to worry about, such as being out in the open, the jungle, kidnapping smugglers, thieving monkeys and an evil cockatoo called Nigel, brilliantly voiced by Flight of the Conchords' Jemaine Clement.
Clement also adds to the musical score, under the guidance of executive music producer and Brazilian music legend Sergio Mendes. Mixing contemporary sounds and artists such as will.i.am and Jamie Foxx with more traditional Brazilian sounds works well; the music is infectious; it enhances the story and moves it along.
The voice talent do an excellent job, the animation is well-crafted, especially the work done on the animals, and the 3D aspect helps bring this dazzling adventure to life. It won't change the world, but you'd have to be in a real grump to leave Rio without a smile on your face.
LOWDOWN
Stars: 4/5
Voices by: Jesse Eisenberg, Anne Hathaway
Director: Carlos Saldanha
Running time: 90 mins
Rating: G
Verdict: Lively, colourful fun for the whole family
-TimeOut