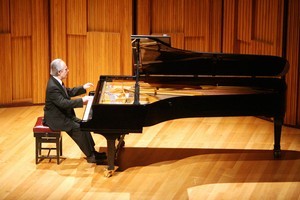 The New Zealand International Piano Festival returns to the heart of the city, opening on Monday in the Town Hall Concert Chamber with Tamas Vesmas playing Schubert and Debussy.
Once his recital is over, Vesmas looks forward to enjoying the presentations of the colleagues he, as artistic director of the week, has organised to play alongside him.
First up is Hoang Pham's Tuesday concert featuring Schubert, Liszt and Chopin. "I was on the jury when Hoang took the first prize in the Lev Vlassenko Competition in 2005," Vesmas explains. "He impressed everyone and it was absolutely clear, right from the beginning, that he was the winner."
Pham will be giving us the complete Chopin Preludes, a choice Vesmas describes as "the result of planning for a 2010 festival that didn't take place because of the economic crisis".
If a number of works had originally been intended to celebrate the centenary of Chopin's 1810 birth, that is no reason for concern. "There's still a lot of life in Chopin a year after his anniversary," Vesmas laughs.
American pianist David Lively, who closes the festival on the following Monday is, like Vesmas, a Parisian, teaching at the Ecole Normale de Musique founded by the great French pianist Alfred Cortot.
"I heard David play at the Salle Gaveau recently and it was extremely good, not only playing but talking about Bach's Art of Fugue."
Lively offers another Chopin collection - the Etudes of Opus 25 - along with the Schumann Fantasy and three Mendelssohn Caprices. Vesmas is particularly proud New Zealand composers have secured a place in this year's festival.
"I'm not making any political statement, but that is how it should be. It's very important that New Zealand music should be represented and the decision to do so should come from the pianists."
And so Diedre Irons includes Gillian Whitehead's recent Tumanako in her Friday playlist of Beethoven, Chopin and Ravel while, on Wednesday, Stephen De Pledge gives the Auckland premiere of the Twelve Landscape Preludes he commissioned and performed at Wellington's International Arts Festival three years ago.
De Pledge, who last year moved back from Europe to take up a teaching post at Auckland University's School of Music, is "thrilled the project has had such wings. I've also done them in England a couple of times and, come July, I'll be doing them at the City of London Festival."
The dozen pieces, from composers such as Jack Body, Gillian Whitehead, Eve de Castro-Robinson, Samuel Holloway and Lyell Cresswell, are "flexible enough so I can pick out separate numbers on different occasions, but I will be recording the whole set later this year".
He is happy his original 2008 performances are up on YouTube, thanks to the assistance of Scilla Askew, the past chief executive of SOUNZ. He admits the sound quality might leave something to be desired but "it's the next step in marketing New Zealand music and all kinds of people have watched them there".
De Pledge is fascinated by "the vexed question of complexity in today's music. It's such an exciting time to play contemporary music because there are so many styles and they're all looked upon without prejudice."
Tamas Vesmas agrees heartily and I wonder what surprises he might be planning for the 2012 and 2013 festivals he is already working on. For the moment, it is enough to be back in the middle of a city to which he gave so much during his 25 years of teaching at the university.
"Now under the umbrella of the Lewis Eady Charitable Trust, the festival is really where it should be," he says. "We are absolutely delighted and, who knows, maybe in future years we'll move into the Great Hall."
Performance
What: International Piano Festival
Where and when: Auckland Town Hall Concert Chamber, April 4-11
For information on concerts and masterclasses see nzipf.com