Somehow Warren Maxwell has managed to find time to record a new Little Bushman album in between reuniting with TrinityRoots, writing soundtracks, and performing with orchestras. He talks to Scott Kara.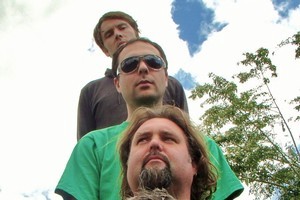 Though Warren Maxwell sits down on the job when he plays live, he's a busy bloke and in the past few years he's been run off his feet. Well, as run off his feet as this most chilled-out of bros can be.
As well as fronting psychedelic roots rock four-piece Little Bushman, who release their third album, Te Oranga, on April 4, there have been orchestral concerts with New Zealand Symphony Orchestra and the Auckland Philharmonia Orchestra, where the improvisational Bushman style found a natural fit in the classical realm. On May 3, Maxwell and jazzman Nathan Haines team up with composer John Psathas and the APO at the Auckland Town Hall for the world premiere of Pounamu, a "folk roots concerto".
Then, of course, last year, as well as writing and performing a live soundtrack for 1929 silent movie Under the Southern Cross at the Auckland International Film Festival, his old band TrinityRoots reunited.
"Oh, it was magical," he says from his home in Wairarapa, and he reckons Trinity will be writing and recording some new songs in the future. "I think there will be more mature type of magic that will come through," he chuckles.
But of late, along with his fellow Bushmen - drummer Rick Cranson, and brothers Tom (bass) and Joe (guitar) Callwood - the focus has been Te Oranga.
Maxwell refers to the new album affectionately as welcoming "another child, another kid" into the world. It's a typically trippy and beautifully psychedelic offering. On it there's a song inspired by Maxwell's "claymation, Wallace and Gromit-type dream" where he strums the earth "like a beat-up old guitar", and the title track is a catchy delta blues-influenced te reo song that he calls a "hori hoedown".
"I'm really proud of three or four songs that I've written in my life and that is one of them," he says of Te Oranga. "It's infectious, and I love the idea of offering something that's in te reo Maori that's not reggae or R&B. And I can imagine a few of the aunties around the marae doing the chicken dance to it. It warms my heart. And it's about taking a step back and looking at your life - and I do it quite a bit, sometimes late at night when the kids are in bed I walk outside with a glass of pinot noir and just reflect. It's a bit of a self-check really."
While Little Bushman's sound is still rooted in late-60s-era blues rock, for the new album the influence of their orchestral forays with Psathas have rubbed off on their songwriting and it gave them the confidence to add strings, choirs (there's a kids' chorus on Gone), and other instruments to the mix.
"And we didn't just want to be a drum, bass, guitar band. Even Rick, a real purist when it comes to the drums who is a fantastic melodic player, he made the exception and put chains, stones and rice all over his kit.
"So having these other things under your belt just broadens your vocabulary a bit - and it has definitely added to our musical quiver."
The new songs started surfacing during the recording of previous album Pendulum from 2007. The six songs - two of which are in two parts making eight tracks all up - were honed over the course of 18 months at Maxwell's Stonefeather recording studio in Featherston.
"That, my friend, was painstaking," he laughs. "And at times it was like, 'Come on guys it's just a song'."
The thing is, with Little Bushman a song is never just a song. While they are catchy, they are long, sprawling epics with multiple parts and a scorching wildness to them.
"That only comes from a lot of thought and a lot of energy. And [with] this album in particular we were able to spend time going deep into songs. And this is the first album where all four of us as Bushman have gone deep, and there have been a few heated debates and I think that's how you get the good stuff [by] debating and fighting it out."
One of the stand-outs is Big Man, a sinister and heavy song with the dark mantra "Never let a big big man point a gun at Grandma's head" running through it. It was inspired by the police terrorist raids in Ruatoki in the Bay of Plenty during 2007.
Yes, though it was a while ago now Maxwell says he wanted the song to reinforce the anger and humiliation the people of Ruatoki felt after the raids.
"The main kaupapa at putting a song like that out there is to remind ourselves that these things happen in this beautiful little paradise of a country, and it's almost a poke at how apathetic we can be sometimes. Because politicians sweep things under the carpet by covering it up with some other story and because we are so busy with paying our bills and everyday life, we forget these things happen. Using the Terrorism Suppression Act to facilitate that raid was completely wrong."
On a lighter, more transitory side is Dream of the Astronaut Girl which Maxwell literally dreamed up one night in his sleep.
"It was a claymation, Wallace and Gromit-type dream, and there was a really arid outback Australia setting, and it was as if I was strumming the earth, which was almost like an auto-harp, you know like those things you used to have at school. The ground was vibrating, and I was listening to a lot of David Bowie at the time, checking out Moonage Daydream and Space Oddity. I took it to the guys and we all agreed to do this phantasmical Barbarella-type song," he says excitedly.
It's a song that will take you up and into the depths of a "freaky psychedelic wormhole in space" - which is just what you expect from Little Bushman.
LOWDOWN
Who: Little Bushman
Playing: Powerstation, Auckland, April 9
New album: Te Oranga, out April 4
Past albums: The Onus of Sand (2006); Pendulum (2007)
- TimeOut