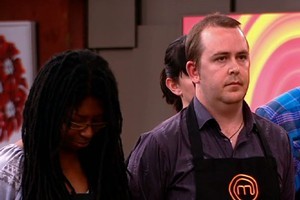 Heartbreaking.
No, not the elimination that wasn't an elimination. That was, what's it called? A sham.
What was heartbreaking came even before the titles. A throwaway line from Cameron Petley during last week's recap, when he and Jax nailed the pasta challenge and were shouted dinner at O'Sarracino.
"It's been about eight years since I've been to a restaurant."
Head chefs should be shouting Cameron dinner at their establishments up and down the country after his performance these past few weeks.
But perhaps his talent comes from the fact that restaurant dinners have been so few and far between.
There are plenty of examples of cooking shows where home cooks try and emulate the silly presentation they've seen at supposed cutting edge eateries, only to appear pretentious.
You know the type, food piled so high it appears to have been injected with more botox than the clientele, over the top inedible garnishes that haunt Ray McVinnie in his sleep, pan fried fish that appears to be wearing something from Trelise Cooper's spring collection.
Maybe the fact that Petley has been shielded from such marnus frees him up to truly put himself on the plate, dish after dish.
For a while there it looked like it wasn't just Cameron and Jax who were getting a treat. The final ten were told they're going somewhere nice for a party, so obviously this calls for a conga. Then - as if they needed a reminder they lived on the North Shore - a party bus turns up.
While we could all see what was coming - yes okay we saw the promo all week - the contenders looked genuinely shocked when they learned they were going to be doing the cooking at Gault's flagship restaurant - Euro.
Bloody hell, I'd be scared too. That place is in the viaduct.
Simon arrives - all chef'd up in white - to deliver the news that they'll be preparing 500 plates of food, before splitting them into teams of two.
Gault pauses between names as though he's coming up with these teams off the top of his head, and the hopefuls are equally as disingenuous in their enthusiasm at their parings. Although Jax is a bit more forthcoming about being teamed up with Anthony.
"It will be interesting to see how we get on."
What I found interesting was courgette-gate. Help me out here, did Cameron and Michelle actually make an error, or was there deliberately not enough veges in the kitchen? It wasn't clear.
I'd be disappointed if it was the latter and one team were deliberately not given enough ingredients to heighten the drama. Well, if you consider a trip to the supermarket to be dramatic.
Meanwhile the other teams were having trouble with the desserts. Sam was struggling with the chocolate pud, "Desserts to me aren't real food". Anthony was getting yolks in his whites, driving Jax crazy in the process, although she appeared calm-as-a-Cameron. Stress levels were building all over the show.
"I felt not only did I have to manage my skills, I had to manage Michael," Traceylee said. If only she'd managed her cream, perhaps she wouldn't have screwed up the bavarois.
Of course this isn't all taking place in the studio kitchen, but in Gault's kitchen. He was either rather stressed or doing a good job of pretending to look like it.
"I don't know how long it takes to get courgettes but you are deep up against it," he said to Cameron, who for the first time all series was actually starting to look worried.
I don't know how long it takes to get courgettes either. But I do know it would have been a damn sight quicker if you'd sent her to the supermarket 1.3km down Quay St rather than the 4.5km trip to Grey Lynn. Making Michelle sit through a staged courgette meet-and-greet with Con the fruiterer didn't help either. Shop smarter Michelle!
Through all this the restaurant's actual chefs were wandering about with concerned expressions. I wonder what goes through their minds when they know a bunch of (relative) muppets are coming in, cameras trailing behind. But one side effect of these in-restaurant episodes is a growing respect for the judges.
I saw a friend admit on Facebook that as reluctant as he was to admit he was addicted to a reality TV show, Ray McVinnie making the perfect pasta sauce on Masterchef Masterclass had done it. I too warmed to him more after seeing his skill at chopping onions, and it was the same seeing Gault in action.
Back in the kitchen, Traceylee and Michael had got to a point where they needed 15 minutes assistance by a Euro chef to catch up. This lead to another doozy from the Taupo mother as she tried to sum up how that made her feel.
"You know, that's like giving birth to a child and then somebody saying 'oh you know what we're going to take this away and we'll bring a toddler back.'"
The parenting similes were coming thick and fast. "I feel like I'm about to have triplets," Gault told McVinnie. Cripes.
By the time the guests arrive things are back on track. Anthony gives a hug to Jax. I wonder if she'd have been smiling if she knew he'd burned a few of those duck breasts, thrown them away, then lied to the chefs about how many there had been.
Back in the dining room it was all smiles. It was the who's who and the who's paid of the restaurant going public. Watching was like looking at the Sunday society-page photos. Didn't recognise any of them either.
When it came to judging, the weak link was Anthony. Between the fatty duck and repeated ice cream stuff-ups putting him behind, he was already a contender for elimination. Add the disappearing duck breasts and surely he's toast.
No. It was one of those "nobody goes" eliminations. Who knows what production reasons there are for doing that, but from an audience point of view it's deeply unsatisfying.
What a shame. After spending a whole day in Simon's kitchen, we'd almost forgotten it was reality TV.
Episode 5
Best line: "I did have the chefs come around quite a few times squeezing my breasts." Anthony doesn't duck away from a nice pun.
Worst line: "My grandmother has been dead for ten years and she'd be faster than you tonight." Cringe worthy rent-a-quote posturing from the restaurant manager.
Current favourite: Cameron Petley, Nadia Lim