The Stone Temple Pilots are back, thanks in no small part to the forgiving nature of guitarist Dean DeLeo. Scott Kara talks to him about the band's eventful journey.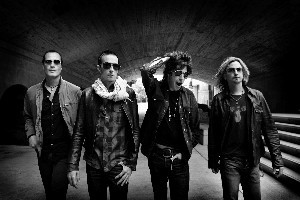 Dean DeLeo has to be rock'n'roll's most patient man. And over the years the Stone Temple Pilots' guitarist has also been music's best babysitter having looked after the band's notorious trainwreck of a singer, Scott Weiland.
"If there was an award given out for patience and compassion I'd have a mantel full of them," laughs DeLeo affectionately. You see, the STPs' fraught and reckless history, chequered with drug addiction, rehab centres, jail time, and cancelled tours, has been mostly on account of Weiland's antics.
However, it also has to be said the band have written some impressive songs along the way such as big, polished bruisers like Vasoline, and debut hit, Plush, which still sounds pretty good today with its slow slugging riffs. And albums like 1994's Purple took the San Diego band, who had formed two years earlier, from alternative grunge-era stars to stadium rock status.
But the band troubles came to a head in 2003 when some almost-biffo between Weiland and DeLeo was a catalyst for the band to split up.
Of course, after that, Weiland went on to be a pivotal part of super group Velvet Revolver with Slash until he was "let go" in 2007.
As for Stone Temple Pilots, DeLeo reckons it was time for the band - also made up of his bass-playing brother Robert, and drummer Eric Kretz - to have a break, since they had all hung out together since the late 80s.
"We'd been literally shoulder to shoulder - and Scott and I actually lived together, sharing a room together back when we first started touring and had a house together - for a long time and you know what, we started getting really tired of one another's routines. It was a much-needed break."
Weiland's waywardness is one of the main reasons the band never made it to New Zealand in their first incarnation.
"It's amazing how a few drug busts will inhibit you," says DeLeo cracking up with laughter. "They wouldn't let us out of the States," he adds down the phone from Lima, Peru, where they are on tour in support of their self-titled album from last year. It's the band's first in almost a decade after they got back together in 2008.
"We've been all through South America in the last few weeks and it's really, really beautiful down here, man," he says, before reeling off the names of places like Rio, Sao Paulo, Santiago, Buenos Aires. They will finally add New Zealand to that list when they play Vector Arena on March 26.
It's clear DeLeo doesn't hold any ill feeling towards Weiland - and he's just happy to be back playing with his mates.
"It's been 20 years I've been in this band and if I allow myself to get bent over and angry, and lost in that bullshit world of anger, then who's the idiot here?
"And look, regardless of what you hear about what happened, the four of us are brothers. We grew up together.
"I don't think any of us planned on [the break] being that long but Scott had huge success with Velvet Revolver, and we were all respectful of it, and we didn't want to throw a wrench in that machine. But then eventually all rivers flow back to the sea don't they?" he chuckles.
Weiland's addiction problems and run-ins with the law are what you hear most about, but how did the rest of the band manage to, as DeLeo puts it, "dodge the bullet"?
"We all took up bonsai planting and macrame," he jokes. "Yep, gardening and crocheting. The old afghan stitch. I say that because my mum did actually teach me that one; she is an avid knitter."
But then, more seriously, he resolves: "We're all different as human beings, and we all have different things that float our boat, man."
It seems since the band reformed life has changed drastically. Now they are all family men - DeLeo has a son, and all the other members have two kids each.
And while Weiland apparently still drinks, he is drug-free, and despite his life of excess his beautifully brooding, raw and powerful voice remains one of the best in rock.
"[Before] it was all about the band," says DeLeo, "but [now] the band is pretty much second to all of us. First and foremost we've all become parents, and that takes precedence over everything. But yeah, personally speaking, life has changed, because being a dad puts you in a place where you want to do all you can as a human being as a father and a friend.
"It's our responsibility to mould these little monkeys," he laughs.
Musically, DeLeo says he just loves being on the road and making records "with these cats". And the self-titled album is a return to form, with a mix of carefree and fiery rock'n'roll on songs like Hazy Daze and Bagman, and then the trademark stylish sleaze of Huckleberry Crumble and Take A Load Off.
"All of our records were different from one another, which was a very concerted effort on our part to try not to repeat ourselves, and as a guitar player and songwriter I try to stumble upon new things, and of course there are always new inspirations. For us, and me personally, I don't really like to visit where I have been before."
LOWDOWN
Who: Stone Temple Pilots
What: Grunge rock survivors
Where & When: March 26, Vector Arena
Essential albums: Core (1992); Purple (1994); No. 4 (1999); Stone Temple Pilots (2010)
- TimeOut