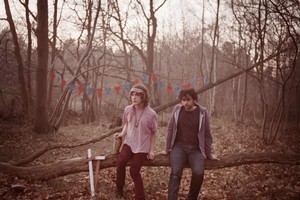 MUSIC
Let's just say there is something for everyone this week. Tonight, Aussie folk-rock singer-songwriter Paul Kelly is into the second part of his four-night A-Z show at the Auckland Town Hall and dance-poppers MGMT play the Powerstation.
Malian music heroes Amadou & Mariam will be the ones to see at Womad in New Plymouth starting tomorrow, guitar hero Santana plays Vector Arena on Sunday and hip-hop terrorist MF Doom plays Zen on Tuesday.
On the local front, playing this week are summery bluesy balladeers the Phil Edwards Band at Rising Sun on Friday and chart-topping reggae kingpins House of Shem at the Studio on Saturday.
MOVIES
There are many "bananas" - the affectionate nickname for New Zealand-born children of Chinese immigrants - living in our fine little land but there has never been a movie made about this unique group.
Until My Wedding and Other Secrets that is, the debut feature film by director Roseanne Liang, which opens in cinemas today.
The film, which got a five-star review in TimeOut on Saturday, tells Liang's real-life story about how a Chinese girl falls in love with a Pakeha boy but dares not tell her conservative immigrant parents.
"A slight, charming and oddball cross-cultural romantic comedy might seem an odd candidate for a five-star rating," said film critic Peter Calder, "but films that achieve completely what they set out to do have a strong claim on such a plaudit."
TV
When the occasion calls for it, I love a good holler on the karaoke machine. Usually it's to Enter Sandman or One by Metallica, which means I'm hoarse afterwards, so it's time to go home. But I'd never dream of taking on the might, power and mettle of the contestants on Homai Te Pakipaki, the new series of which kicks off on Maori TV tomorrow night at 8.30pm.
Also on the box this week, new show G Girls (Thursday, 9.30pm, Channel U) goes behind the scenes at British fashion-gossip mag Glamour, and the male version of Jo Frost stars in Supermanny (Wednesday, 7.30pm, Prime).
OR...
raise a glass to our Irish cuzzy-bros for St Patrick's Day today. The Guinness will be flowing at many a bar around town but one party that might be worth checking out is the Jameson Global Party at 1885 Britomart, where local glitchy beatnik Pickachunes and dance pop duo Computers Want Me Dead are playing.
-TimeOut