Poor Boy, the play inspired and soundtracked by Tim Finn's songs, has arrived in Auckland after seasons in Melbourne and Sydney. Dionne Christian goes behind the scenes.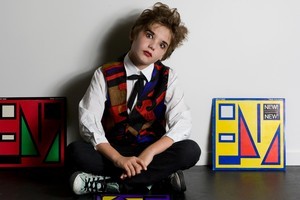 The name's Finn and at just 10 years old, he's the face of a theatrical production which will breathe new life into music by that other famous Finn - Tim, that is.
Finn McLachlan and Mitchell Hageman, 13, share the role of Jeremy Glass, aka Boy, in the Auckland Theatre Company's adaptation of Poor Boy, a play by Australian Matt Cameron inspired by and featuring the songs of Tim Finn.
Unlike a conventional musical the songs aren't the driving force for the story. They serve as "internal moments" for characters and provide insights into their thoughts and feelings.
Finn fans should be prepared to hear his songs as they've never been performed before. Musical director John Gibson has, among other things, slowed their pace to emphasise the theatricality and poetry of the lyrics.
Gibson says this brings out subtleties and delicacies which don't usually exist in "normal" pop songs, but fit perfectly the other-worldly themes of the play.
He had to forget Finn's iconic New Zealander status when it came to re-imagining the songs, and approach the music as he would the score for any other production.
"Otherwise I wouldn't have been able to do my job, to serve the production fully."
A live band, featuring Finn's guitarist Brett Adams and Maree Thom and Chris O'Connor from Don McGlashan's band The Seven Sisters, is on stage while, unlike most plays at the Maidment, the cast wears microphones.
Director Raymond Hawthorne says the actors can move around and, at times, have their backs facing the audience when singing. All the characters sing except, somewhat ironically, the Boy at the centre of the story.
Finn is thrilled Gibson has reinterpreted the songs. He says previous versions of Poor Boy, first by the Melbourne Theatre Company in 2009 and quickly followed by a Sydney Theatre Company later that year, aimed to replicate them as closely as possible.
But as a singer/songwriter, he enjoys knowing his work can be opened to new readings, styles and genres and he approves of Gibson's take on his songs.
"The job is done for me once I write the songs, record them and take them on tour. If they strike a chord with someone else who can see - hear - them in a new way, that's great. Themes can be explored and opened up even more than what they were originally.
"My songs are personal but they do seem to resonate with other artists. I suppose that's part of the paradox of the personal in that often the deeper you go, the more you find in common with others."
Finn's songs, written for Split Enz, as solo works and with brother Neil for the Finn Brothers, have had eclectic other lives. In 1995, Enz keyboardist Eddie Rayner collaborated with the New Zealand Symphony Orchestra on the ENZSO project while in 2001 the Royal New Zealand Ballet's production Ihi Frenzy, based on the band's songs, was a sensation.
A compilation album, She Will Have Her Way featuring New Zealand and Australian female musicians singing songs written by Tim and Neil was released in 2005. Finn says Missy Higgins' stripped back and acoustic version of Stuff and Nonsense is one of his favourite versions of one of his songs.
The guys got in on the act last year with a follow-up album called - unsurprisingly - He Will Have His Way.
Finn has even re-worked Six Months in a Leaky Boat for Aussie children entertainers The Wiggles.
In a way, Poor Boy brings things full circle. When Split Enz set out to conquer New Zealand in the early 1970s, founders Phil Judd and Finn made the shows theatrical events using elaborate sets, costumes, hair styles and make-up. Playing in theatres and concert halls, grander than the average pub, distinguished them from their contemporaries.
This history may surprise McLachlan and Hageman who, understandably given their tender years, hadn't heard a lot of Finn's music until they were cast late last year.
Their fathers suggested they listen to some of the songs and both like them very much. McLachlan describes the song Poor Boy as "cool" while Hageman says they have a unique-to-New Zealand sound.
Poor Boy playwright Matt Cameron was around their respective ages when he first heard Dirty Creature and was so captivated by it that unable to afford the album Time and Tide, he shoplifted it from a Melbourne department store.
"The show's my attempt to pay back the royalties," he jokes.
Having written a number of successful plays, Cameron was introduced to Finn through a mutual friend who thought creative sparks might fly if the two met.
Cameron arrived at their get-together, in the living room of his friend's Sydney home, knowing he wanted to write about families and memories while Finn brought a book he was reading - and intrigued by - about children who claim to have lived past lives.
"I saw at once the incredible dramatic trigger for a story, a family drama, where a child claims he does not belong to the family he is in and is going back to his real one," says Cameron. "We found instantly that what we came up with coalesced."
Finn confesses he didn't know what a big fan Cameron was of his music; Cameron says he did his best to look well informed rather than "some sort of crazed stalker".
His knowledge of the music has proved useful for knowing almost instantly what songs will fit in a story where past and present collide, constantly informing each other, and impacting upon the future.
The personal lyrics and haunting melodies are perfect for a play about a boy who, on his 7th birthday, shocks his family by declaring he is
actually a grown man called Danny Prior (Roy Snow) who died in a car accident some years ago.
Insisting he must find his real family, Jeremy - Boy - sets off across town to the Prior household still coping with the fall-out from Danny's sudden death. When Jeremy arrives at the Priors, the families are flung together and slowly start to discover they share more than might first be obvious.
Designer Tracy Grant Lord and Hawthorne have deliberately created a set while allows the families to occupy their separate worlds but becomes increasingly blurred as more is revealed about each.
As Danny, Snow has one of the greatest challenges. He essentially plays a ghost, who shadows Boy but simultaneously is an entity in his own right.
"You can't play 'otherworldly' to that degree because it wouldn't work on stage. You might as well be a ghost in a white sheet that goes `booooo'. So you have to create a relationship with the other characters and ensure that the audience is not played down to at all.''
After spending a week with director Hawthorne, Gibson and the seven strong cast, Cameron has re-worked the script. There's no interval, allowing the play to reach its climax uninterrupted.
"I thought we should have a new, fresh approach for New Zealand," says Hawthorne.
But the themes and vision remain the same.
"Poor Boy is about grief and how we deal with it, how we carry it about with us, how we work through it and come out the other side. It is about the rearrangement of life, having faith, having hope and moving on. Given recent events in this country, I cannot think of a more moving and beautiful and apt piece for this time. It is divine will, it really is."
LOWDOWN
What: Poor Boy, an Auckland Theatre Company production of the Australian writer Matt Cameron's play inspired by the songs of Tim Finn
When and where: From tonight to April 9, Maidment Theatre
The featured songs: Poor Boy, Into the Water, Ghost Girl, In a Minor Key, Not Even Close, Underwater Mountain, Unsinkable, Out of this World, Walking Through the Ruins, Astounding Moon, Persuasion and I Hope I Never.
-TimeOut