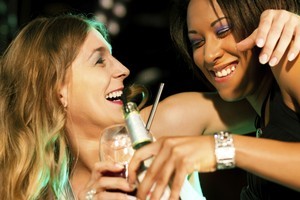 Binge drinking among women is a matter of some concern these days.
Packs of feral, out-of-it young ladies regularly pop up in the news media as a less-than-shining example of how bad our alcohol-sodden culture has become. Once primarily the domain of the young male trying to prove his masculinity by getting mothered, women have now joined the party. Even better, they come with their own party soundtrack.
Not so long ago I stumbled (though not in a drunken sense) on a 3-CD set entitled The Best Beer Drinking Songs Ever ... For Girls. Now, I'm not going to get all PC here and question the use of the word "girls" in the title. I don't really have a problem with women being called girls, in the same way I don't have a problem with men talking about being one of "the boys". In fact, given the juvenile behaviour excess alcohol often inspires, the word "girls" seems entirely appropriate within this context.
In fact, I have more of an issue with the fact these are "beer drinking" songs for girls.
Yes, I know this CD is part of a series of CDs - Best Beer Drinking Songs in the World ... Ever - but generally, when I think of drunk women, they're not actually drunk on beer. Surely a more accurate title would be The Best RTD Drinking Songs Ever ... For Girls Or maybe even The Best Cheap Bubbly Drinking Songs Ever ... Possibly this is: (a) the perception of female binge drinking I get from the media; and (b) the sort of women with whom I have been known to raise a glass or two in the past. Beer just seems a very masculine thing, is all I'm saying.
But those quibbles aside, what does the track-listing of The Best Beer Drinking Songs Ever ... For Girls actually tell me about drunk women and what they like to listen to? Or, possibly, what do the people who put these CDs together think drunken women want to listen to when they are drunk?
Much of it is the usual stuff you'd expect for a soundtrack to feminine drunken debauchery: the standard disco suspects (The Jacksons, Sister Sledge); chick-rock anthems (Pat Benatar); fun girly pop songs (Katrina & the Waves, Lily Allen); soppy sing-along epic ballads like Total Eclipse of the Heart; and, inevitably, Girls Just Want to Have Fun.
So far, so good, and the soundtrack to a good time for all; but of more interest are the songs off the well-travelled party path. What does the presence of The Divinyls' I Touch Myself say about girls who go out and drink a lot of beer? Is that where these evenings end? Or is that, along with Katy Perry's I Kissed a Girl, some CD compiler's fantasy about where these evenings should end? Answers on the back of a beer coaster, please.
Not being a big fan of Kelis (or, indeed, a fan at all) I have no idea what her song Milkshake is about, so I'm guessing when I presume it exists on this compilation for all those breast-feeding mums who are enjoying their first night out with the girls since the baby arrived. They're the ones who spend the first part of the evening phoning home every 10 minutes before they get smashed incredibly easily and dance wildly, then peak too soon and have to lie down with a bucket beside them. I only hope they expressed before they went out.
But then there are the songs I simply cannot comprehend any woman (or man or beast, when it comes to it) wanting to listen to at all, let alone when you're meant to be out having a good time. Starship's Nothing's Gonna Stop Us Now? Actually I would stop you, if I got the chance - just like if, I got the chance, I would also stop, quite forcefully, Mel C and something called Cut 'n' Move for what they did to a perfectly good KC & the Sunshine Band song. But then I'm not a drunk girl, so what do I know?
But then there is a Richard Marx song. Dear God, how drunk would you have to be to want to sing/dance along to a Richard Marx song? In my humble opinion, by the time you were drunk enough to want to listen to Richard Marx, you would be so drunk it wouldn't matter what was playing on the stereo - even Crazy Frog would sound good, you'd be that drunk.
So that, in a shot glass, is The Best Beer Drinking Songs Ever ... For Girls. I now look forward to the next one in the series: The Best Champagne Drinking Songs Ever ... For Rich People at the Polo.