From his days in the Mickey Mouse Club to playing a father in a failing marriage, Ryan Gosling's career is maturing nicely, writes Helen Barlow.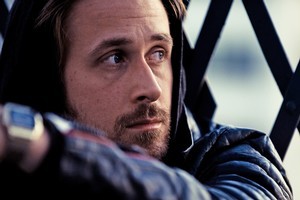 Ryan Gosling may be developing into one of Hollywood's hottest talents, but The Notebook star is never going to be a conventional matinee idol. He is more likely to play oddballs or outsiders; he was Oscar-nominated for his turn as a drug-addicted teacher in Half Nelson and was unforgettable in Lars and The Real Girl, where his character fell in love with a life-size sex doll. Strangely, he failed to be nominated for Blue Valentine, even if he delivers one of his finest performances ever.
Directed by Derek Cianfrance, Blue Valentine is at once a passionate romance and the edgy story of its demise. Michelle Williams plays the other half of a married couple, who, after six years, are struggling to keep their marriage afloat. We see the ruptures at the beginning of the film and then backtrack to discover how they first met in far happier times.
For 30-year-old Gosling, who famously dated his Notebook co-star Rachel McAdams for four years after making the 2004 film - they split up and got back together during that period - the relationship in Blue Valentine is not necessarily over.
"Relationships grow because you go through hard times with each other," he says. "They show you who you are. This couple is having a bad couple of days."
But are they breaking up in the end?
"Yeah, well, that day they are. They have a kid and they have a life together and it's not that it just ends when the movie ends. Gone With the Wind is way more definitive. It is, 'Frankly my dear, I don't give a damn', and he walks out. That is it. In Titanic, he dies and it is over. People are fine with that. In Blue Valentine she is feeling a little suffocated. I can clearly understand why she needs a break."
In the latter section of the story Gosling's Dean is super-intense and hard to be around. How was it being nasty to Michelle?
"Well, she was nasty back," he responds with a chuckle. "It's like how Derek said at the beginning : I am the girl and she is the boy. That is unlike most film standards where the men are the ones who leave and the women are the ones who want to stay and work it out. I like that."
Ultimately Gosling pushed the character further than either he or Cianfrance had imagined.
"I don't understand how acting works," he admits. "It's a mystery to me. What's yours and what's not yours and how much of the character is you, I'll never understand. It's hard to be the person doing it and to know."
Gosling had first discussed the film with Cianfrance when he was 23, and believed he was too young to play the father of a six-year-old in the later part of the story. Waiting six years was thematically appropriate as well.
"This whole film is a study of time and the effects of time, physically and emotionally," explains Gosling. "I think it is interesting and I learned a lot from that."
Looking back, he says, "It was the most satisfying experience of my career."
The film followed possibly his biggest disaster, when fresh from his Oscar nomination for Half Nelson he turned up on the set of Peter Jackson's The Lovely Bones with a middle-aged paunch in an attempt to look older. That had been his first attempt at playing a father.
"I was too young for that part and I should never have agreed to do it," Gosling notes, even if there was more of a jostling of egos than the strong-willed actor admits. "As much as they believed I could do it, I didn't. I was too young to play the father of a 14-year-old girl. I could have potentially hurt the film. It was not worth that risk."
Gosling says he would have briefly made it to NZ for the film, but as it stands he hasn't returned since he starred here in Young Hercules (1998-99). He had won the role in the television series at the age of 16 and it came as something of a relief after the strictures he encountered on The Mickey Mouse Club.
"They pegged me as the bad guy," he says of the time he appeared on the Disney show with the likes of Justin Timberlake, Christina Aguilera and Britney Spears. "They pulled me in one time and said, 'If you don't stop corrupting the girls we're going to fire you'. I didn't touch the girls by the way."
During his time here he discovered a freedom and a confidence just to be himself. "I haven't been back to New Zealand and I miss it. I had a good time there."
Making Blue Valentine, he has again regained his confidence and now seems more mature and more handsome than ever. He seems to have taken a step back and has learned to relax a little.
"I feel like once I learned how to change my mind, my whole life opened up. I used to think that you had to stick to your guns, otherwise it was a sign of weakness. I learned that a lot from Derek too. If there was a problem with Blue Valentine we would just change it."
Working with Gianfrance on the long-gestating Blue Valentine - which took the writer-director 12 years to assemble - has made Gosling more flexible with his movie choices.
The naturally wry-witted actor has since filmed his first comedy, Crazy, Stupid, Love, where his ladies' man character is dishing out romantic advice to Steve Carell, while also being involved in a relationship with rising star Emma Stone.
He has also completed Nicolas Winding Refn's Drive, alongside Carey Mulligan and he is currently looking dapper in a suit for his role as an idealistic staffer to George Clooney's presidential candidate in The Ides of March, Clooney's third film as director. Ever loyal, he will re-team with Cianfrance for The Place Beyond the Pines and with Refn for the highly anticipated Logan's Run remake, which sees both men enter blockbuster territory for the first time.
Gosling's dream though is to work with David Lynch. Has he told the eccentric director he'd act for him?
"Oh yeah," he responds drolly.
And what did he say?
"Don't wait by the phone."
Maybe Gosling looks too much like the boy-next-door for him?
"There's prosthetics!" he quips. "I think I can look like anyone and that I have one of those faces that is good for acting."
- TimeOut