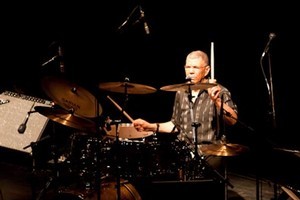 I think the judges would have called it a three-way draw.
On stage we had one of the best jazz combos to visit these shores, on screen was heavyweight legend Jack Johnson dishing out the bling and bash in equal measure, while pulling it all together was the looming presence of Miles Davis.
This was an immersion course in blackness and choosing where to direct your attention was an ongoing dilemma.
Which is a testament to the job done by Jack DeJohnette and his players.

They may have been reinventing Davis' homage to one of the few people he ever offered reverence, but they never forgot its purpose as a soundtrack. They supported the visual spectacle without ever dominating it.
As is the way with drummers, DeJohnette spoke most eloquently through his sticks. From their improvised tribute to Christchurch through to his staccato commentary of the boxing action, he was fluid, driving and wildly evocative.
He has been touring this show for several years now and his familiarity with the script was clear.
Of course, it helps when you are able to bounce ideas off a bass player like Jerome Harris, who learned the ropes from Sonny Rollins (visiting New Zealand in June); multi-instrumentalist Byron Wallen, who has played with everyone from Desmond Dekker through to Manu Dibango and The Roots; and guitarist/ Berklee music professor Dave "Fuze" Fiuczynski.
Along with horn-man Jason Yarde they each have that rare ability to conjure amazing moments in the most casual manner imaginable. To see such skills on display here is even rarer.
Musically, they referenced much from Davis' original - a set so radical even the likes of Herbie Hancock admit they weren't sure what they were doing - while taking us from jazz funk to fusion to freeform to Cuban.
Then there was the movie and any story that touches on our own champion Bob Fitzsimmons, Rasputin, Pancho Villa, Marcus Garvey and wild west lawman Bat Masterson is going to be a great tale.
But toss in fight footage of a grinning Johnson toying with each great white hope before a baying crowd and you're on to an absolute ripper.
*Jack DeJohnette: Jack Johnson: Soundtrack to a Legend, was one night only. ASB Theatre, Saturday March 5th