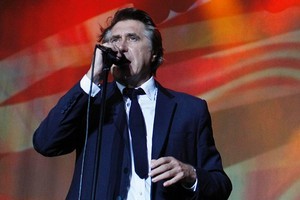 The last time Roxy Music played in New Zealand it was in a Waikato field as the headliners of Sweetwaters 1981.
This time the mostly reunited English band got a better class of paddock, even if they didn't quite pull off the triumph of 30 years ago.
Playing before a crowd of 6500 at Mangere's Villa Maria Estate, Bryan Ferry (left) and co were in an aptly swish setting, with its designer surrounds and its jetset location.
And like the place, this was a band with multiple vintages, playing a set that tapped into just about everything from their decade-plus heyday, when they went from art rock, to glam, to disco-pop and then into the days at the dawn of the 80s when they went soft in a sweetly synthetic kind of way.
Ferry went on to a career as a velvety if less than prolific balladeer. And last night, it would have been hard to pick much difference between the Roxy takes on some songs and the arrangements the frontman brought here on his last solo jaunt.
And still suave and debonair Ferry may be, but he certainly wasn't about to add "outgoing" this late in his career - his audience communication was limited to a couple of nice-to-be-heres and an introduction of the extended band, which ran to dancing gals down the back recalling the glamourpuss imagery of the 1970s Roxy albums, which also got a big workout on the video screens.
Pity they didn't give much of a close-up of the band at work - it was bit like watching 90 minutes of Bond film opening titles - as it might have given this otherwise enjoyable show the sense of connection it lacked.
Oddly, all of the original band members bar Ferry seemed to have back-up ring-ins. Guitarist Phil Manzanera in particular was overshadowed by his young Jimmy Page-esque understudy Oliver Thompson, and saxophonist Andy McKay and drummer Paul Thompson had help from an extra saxophonist and percussionist nearby.
And it possibly didn't help that the show started and ended (with the extended space rock swirl of For Your Pleasure) in relative fanclub-only obscurity and with an initially brittle sound mix which buried Ferry.
But by the time he was puckering up for the whistling solo of John Lennon's Jealous Guy, half a dozen or so songs in, the set found a sense of purpose, even with the unnecessary cover soon after of Neil Young's Like a Hurricane.
But as the band steered a course between greatest hits (the swoony wine bar soul of Avalon, the Euro-disco of Love is the Drug, the glam crunch of Let's Stick Together were all deftly delivered) and the fanclub-friendly stuff (like the jagged Do the Strand), Roxy uncorked something from the spirit of 81 and it went down very well indeed.
In support, a white sportscoated Nathan Haines threatened to outdo Ferry on the sartorial front and certainly showed McKay there were a few mores notes on the saxophone than his Roxy solos ever managed with a set of pleasantly funky jazz stuff.
Haines also turned up later to add some guest soprano saxophone on Miracle Sun in Don Mc Glashan and the Seven Sisters' set.
McGlashan and his increasingly folky collective (accordions, mandolins and violins aplenty) went for a greatest-hits approach reaching back past his solo years to the Muttonbirds, the Front Lawn, and to Blam Blam Blam's Don't Fight it Marsha, which also sounded as good as it did back in '81.