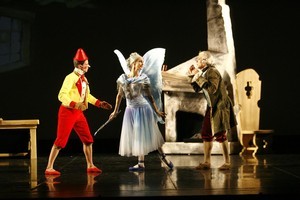 In the Walt Disney version, Pinocchio's nose might grow in response to his telling untruths. But there is no such phenomenon in the original Italian version on which the Royal New Zealand Ballet Company's new production of the classic fairytale is based.
Nor does a chatty cricket last longer than the first scene or two. The fledgling puppet/boy dispatches him with a nifty hammer blow on his way to raiding the money tin on the mantel. So prepare any sensitive Jiminy fans beforehand.
With the cricket's demise a character called Luminati, who bears a startling resemblance to a lamp-post, complete with street names "Right" and "Wrong" attached to its arms, represents young Pinocchio's conscience as he makes his fraught and fantastical journey from wooden marionette to real, live and loving son to the old toymaker Geppetto.
In other respects even the most stalwart Disney-ites will be delighted with Toby Behan's newly created and hour-long version of Pinocchio, with its magical Blue Fairy, delinquent Lampwick, wicked and wily Fox and Cat, showman Stromboli, predator Coachman, the beautiful Arlequino and Columbina and a monstrously magnificent whale.
A full-length children's ballet is a new addition to the company's regular Tutus on Tour season, which will see it performed the length and breadth of the country over the next month.
Matz Skoog, back at the RNZB as artistic director until September, when American dance star Ethan Stieffel takes up the reins, held the position in 1998 when the Tutus on Tour concept was launched to celebrate the company's pioneering history as a national touring enterprise, and to get back in touch with the country's smaller communities.
"And it worked," he says. "The Royal New Zealand Ballet belongs to the whole country - not just the hoi polloi."
Skoog describes Pinocchio as a very big production to take on the "smalls" tour, with a full set and lots of costumes and props - all in duplicate as the company splits in two to separately cover the North and South Islands.
Previous programmes have comprised several excerpts from different works, to show the prowess of the dancers over different styles. He argues the importance of "story ballets" which delight children but may not appeal as much to more sophisticated followers of dance.
"Pinocchio is essentially the story of the prodigal son, and a metaphor for change," he says. "It is very important that we maintain the ability to tell these stories on stage."
Skoog has freelanced throughout the upper echelons of the ballet world for the past five years, and says many dancers have lost the ability to convey emotion, to portray the progression of events on stage.
"It is not just to do with miming work, but with being able to expose concepts of human existence," he says. "There is a lot of academic dialogue about dance, but not many of those who like to intellectualise can actually perform what they proclaim. You have to be able to portray it, or these things just remain a concept."
Works like Pinocchio are not just for children, or old fashioned and a bit passe, he says. They represent part of the process of maintaining a skill set - and not just for the dancers. Audiences can also lose the ability to read a performance. In the days before cinema moved in close to show much more subtle portrayals, people had a greater understanding of the meaning of ritual movement and symbolic gesture.
"We have to be able to still tell a story that can be followed without this knowledge of certain symbols. It is communication with the audience, conversation with our public."
Pierre Doncq performs the lead role of Pinocchio in the North Island, and agrees the hardest work has been to portray the emotional states of his character, as he transitions from puppet to live boy.
"There is lots of emotional interpretation,"says the dancer, who joined the RNZB in 2009. "Physically the challenge is the transition from being really stiff in your body, like a wooden puppet, to really free movement as a real boy. It is hard to let go."
Doncq comes from Belgium, but completed his dance training in Germany and had just completed an apprentice year at the Semperoper Ballet, Dresden, when he met ex-RNZB dancer Chantelle Kerr there.
Doncq was looking for a job and Kerr told him the New Zealand company was looking for boys. He sent an audition CD and within two weeks was on his way. Pinocchio is his first major role and he is still in a state of disbelief at the opportunity.
Doncq, a late starter to dance, took his first jazz dance lesson at age 17, and with just a weekly one-hour class behind him, plunged into a 30-hour week of ballet, age 18.
"My first dance teacher at school advised that if I wanted to dance I needed a base in ballet," he says. "She took me to see a teacher in Brussels who watched me in my first ballet class, thought I had some talent and said she would take responsibility for me for a year and see where that took me."
That meant evening lessons at a private school. Doncq had graduated from high school the previous year, but he also enrolled as a "free" student at another high school in Brussels, which offered daily dance classes alongside the regular academic curriculum.
In Belgium you have to legally do something after you graduate, he explains. The "free" student status means one is enrolled at the school but without obligation to be there.
Four years after that first ballet class, aged 22, he was with Semperoper Ballet, and two years later he is Pinocchio. "It is an amazing opportunity," he says. "Awesome."
A classical "tutu ballet," Greg Horsman's Verdi Variations precedes Pinocchio on the touring double bill, with the dancers arrayed in gorgeous cream tutus, tiaras and pearls, the "boys" in matching military style tunics softened with romantically flowing sleeves.
"It is all very 'ballet ballet'," says Horsman, who is fulltime ballet master for the company, as well as a choreographer. "But I was keen to do something a little bit different as well, within the classical brief."
The result is light-hearted sprinkles of humour, based on the inevitable competition, hierarchy and rivalry that spices up life in a dance company.
"But you won't be laughing all the way through," Horsman says. "The music is very dancey, the choreography is challenging and technical, the dancers look beautiful - and hopefully they will all dance beautifully too."
Performance
What: Tutus on Tour, with the Royal NZ Ballet
Where and when: Bruce Mason Centre, Takapuna, March 10-12; Raye Freedman Theatre, Epsom, March 15; TelstraClear Pacific, Manukau, March 22; Hawkins Theatre, Papakura, March 24, all shows at 7.30pm, with a 2.30pm matinee on March 12