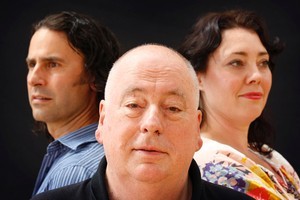 Roger Hodgman is a man with a mission and this one could have been set up with him in mind. With strong theatre credentials from Australia and Canada behind him, the Australian director is presenting his vision of Handel's Xerxes as NBR NZ Opera's contribution to the Auckland Arts Festival.
The production premiered in Melbourne last year but Aucklanders will be seeing a new, improved model.
"I've done a lot of revisiting of productions," says Hodgman. "With a new cast you always find new approaches and probably a good 25 per cent of Xerxes has been completely rethought."
Significantly, the Auckland cast includes not one but two counter-tenors. Tobias Cole plays Xerxes and William Purefoy his brother, Arsamene, in a solid cast that includes familiar Australian singers Tiffany Speight and Stephen Bennett as well as our own Kristen Darragh and Martin Snell.
"Xerxes is insanely jealous of his brother, who probably gets all the girls," Hodgman says.
"There's a real brotherly rivalry between them and having two men, instead of using a mezzo for Arsamene, brings a new energy."
He is quick to tell me that Cole will be singing his big-range aria in Handel's original key instead of the more familiar version that is transposed down in pitch.
"It's so thrilling to hear him right at the edge of his range," Hodgman enthuses. "In fact, in some of the cadenzas he goes right to his top note. It's tightrope walking. The character is crazy at this point and dramatically it works very well."
Xerxes is an opera of striking and theatrical contrasts. "Its first half-hour is quite slow and lovely, opening with his most achingly beautiful melody," he says, describing its sublime serenity and stillness.
Hodgman draws comparisons between Baroque music and jazz, "where, as Handel often does, you take a tune and spin it out. There's the same mesmeric quality to this opera, if you give yourself over to its world."
Yet there is humour, too - of the wildfire variety - when the pace picks up and those recits start flying from singer to singer.
"In Melbourne, the audience laughed before they read the surtitles," Hodgman says.
"I so hate it when the surtitles get the laugh before the singers, particularly in Mozart."
In terms of the opera's presentation, Hodgman has kept it simple. "I felt it would be wrong to have lumbering bits of scenery coming in and out," he says. "I simply asked John Verryt to create a harmonious 18th-century space for Trelise Cooper's costumes, which the singers adore wearing."
The choice of Cooper, whose showing at last year's New Zealand Fashion Week was titled "Stained glass windows, sacred hearts, divine intervention, baroque grandeur", was inspired.
"My wife admires her fashions and it struck me that there's a kind of 18th-century influence in Trelise's use of layering and embroidery.
"Like any good costume designer, Trelise was interested in talking about the characters. She encouraged me to write long character sketches of them, in modern terms, so she could create appropriately bold costumes."
As for the musical side, how could the contribution of Wolfgang Katschner, and his back-to-Baroque backing band, Lautten Compagney, be overlooked?
"You might expect an Early Music specialist to be over-concerned with what's proper," Hodgman laughs. "Wolfgang's anything but," he says, marvelling at the German's swift tempos and theatrical flexibility.
Hodgman, noted overseas for his treatments of musicals by Stephen Sondheim (an award-winning Sweeney Todd in Sydney) and Leonard Bernstein (a full-scale Wonderful Town for Ontario's prestigious Shaw festival) says he likes to find directorial inspiration in the music itself.
"This is rather looked down upon in some quarters because there are singers who can't move well and don't have a real sense of punctuation," he says. "But there is a structure in Handel's music that lends itself to the various shifts and repeats of the big arias.
"The more you work on an opera like this, the more you realise what an incredible understanding of the theatre Handel had, even to the point of marking rests in the score.
"Just when you think there's a point of change or a new thought in the opera, just when the singers need that tiny extra beat, there's that little rest sitting there."
Auckland Arts Festival
What: Xerxes
Where and when: Civic Theatre, March 2, 3, 5 at 7.30pm, March 6 at 5pm