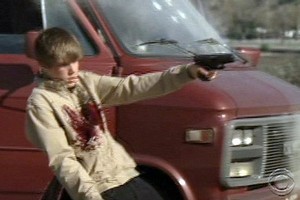 Teen singing sensation Justin Bieber may have a new movie out in cinemas, but it's a television appearance that has his army of fans chatting excitedly this morning.
In a scene that will surely horrify his tweenage fan base, Bieber's character has been shot dead on the hit CBS TV show, CSI.
Bieber's character's brother, Alex McCann, was shot and killed in the season premiere.
The 16-year-old returned to the crime series to revive his role playing troubled teen Jason McCann in an episode titled A Target of Obsession which aired in the US last night.
In the episode's climactic scene there's a dramatic standoff between McCann and the authorities which ends in a storm of gunfire.
McCann is shot dead by police. Bieber's fatal wounds will ensure this second appearance on CSI will be his last.
McCann's tragic end on CSI, however, did not dampen the heart-throb's excitement about the airing of his episode.
The teen sensation took to his Twitter account to share his excitement about the broadcast, tweeting: "Everyone back home make sure to tune into CSI tonight!! Jason McCann is BACK!!"
- AGENCIES