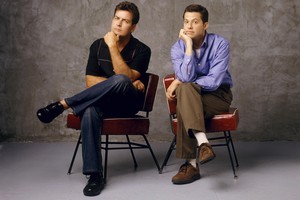 In the considered opinion of hell-raising actor Charlie Sheen, "being sober is boring".
Recovering from a blow-out that made Silvio Berlusconi's "bunga bunga" parties look like high tea at the Palace, Sheen rang a radio station to explain his wild behaviour.
He didn't hide behind pop-philosophy a la William Blake ("The road of excess leads to the palace of wisdom") or Wildean world-weariness ("I can resist everything except temptation") or an old hippie's reluctance to grow up ("If it feels good, do it.")
"I was sober a long time ago for five years," he said, "and was just bored out of my tree."
Bear in mind indulgence, as practised by Charlie Sheen, doesn't mean a few beers with the boys or too much wine at a party. It means locking yourself in a hotel suite or your Hollywood mansion with a suitcase of cocaine, a truckload of booze and a line-up of porn stars, and not coming out until the police and paramedics break down the door.
If that's his idea of a few quiet ones, I can see why being sober is boring. Perhaps what Sheen really meant is that normality is boring.
Celebrity culture needs these decadent, self-destructive individuals. Their outrageousness and refusal to adhere to mainstream society's norms of acceptable behaviour reinforce the whole concept by rubbing in the fact that these people are not like you and me.
We follow their tumultuous existences as if they were reality shows, awaiting the next lurid development, guiltily aware that although they have the trappings of escapist fiction - easy money, glamorous women, exotic locations - there's always the possibility that they'll end in real tears.
If and when they do, we congratulate ourselves on our moderation and recite the morals of the story: money can't buy happiness; there is such a thing as too much of a good time; lights that burn twice as bright burn half as long.
It's little wonder that Sheen breezes through life with his bland features arranged in what's known, in the parlance of our times, as a shit-eating grin: he's pulled off the feat of simultaneously being Hollywood's most notorious reprobate and its highest-paid television star.
What's more, he's paid around $2 million an episode to play a watered-down version of himself.
In the sitcom Two And A Half Men, Sheen plays Charlie, a hedonistic, boozy, sex-crazed bachelor. The alleged comedy component derives from the fact that, for reasons which are bound to be too contrived to be worth ascertaining, Charlie has to share his Malibu pad with his dork brother and layabout nephew.
In real life, Sheen is far too committed to his lifestyle to allow disapproving family members - of whom there's no shortage - to cramp his style.
At one point Sheen's talent for parody marked him as the natural successor to Leslie Naked Gun Nielsen, whom one critic dubbed "the Laurence Olivier of spoofs." But Two And A Half Men lacks energy and conviction: Sheen is on autopilot and the jokes are as telegraphed and unctuous as a pre-arranged question from a brown-nosing government backbencher in parliamentary question time.
Perhaps the real reason for Sheen's behaviour is that he's bored with his job and slightly ashamed of himself for making so much money for so little effort in such a light-weight endeavour.
That may seem fanciful, but beneath the glaze of cynicism there may be remnants of a conscience inherited from his father Martin, an active Hollywood do-gooder.
Sheen's notoriety raises the question: how does he get away with it? It's reasonable to assume that he rarely leaves home - or, for that matter, comes home - without a decent supply of illegal substances, but when the police show up they restrict themselves to ensuring that he's still breathing and assuring the shaken porn stars that it's safe to emerge from wherever they sought refuge from their rampaging host.
It can't simply be that he's rich and famous and lives in Hollywood where the normal rules don't apply. After all, his female counterpart Lindsay Lohan has so many brushes with the law that it's beginning to smack of police harassment.
One explanation is that in Los Angeles, as elsewhere, the police are increasingly turning a blind eye to the consumption of recreational drugs. That means fewer people going to jail for victimless crimes, which is good.
On the other hand, it ensures that we have the worst of both worlds: unfettered demand for harmful products which are only available on the black market.
There are various ways of describing this situation. "Boring" isn't one of them.