Sally Hawkins fell for New Zealand while her character in Love Birds fell for Rhys Darby, writes Jacqueline Smith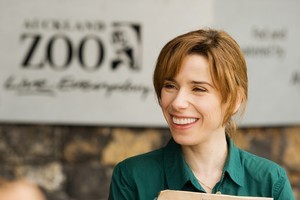 Sally Hawkins is only sorry her visit to New Zealand was so fleeting.
"I'm completely in love with it, I think it's the most extraordinary place on Earth. It's like nowhere else I have ever been," she gushes.
The British Golden-Globe award-winning actress is so grateful she was able to find three weeks between her film and theatre commitments to head Downunder to film Love Birds alongside Rhys Darby last year.
She sandwiched the romantic comedy between filming Made in Dagenham, Jane Eyre and performing on the stage in New York.
Most of Hawkins' scenes were shot at Auckland Zoo, as she plays a bird expert named Holly who is introduced to Darby's character Doug when he comes to her for advice about a shelduck. This duck, who earns the name Pierre, quite literally tumbles into Doug's life, and becomes his unlikely companion. They help each other overcome their fear of flying and Pierre inadvertently helps a forlorn Doug overcome his fear of falling in love again after being unceremoniously dumped by his girlfriend.
It turns out Holly - Doug's potential new flame - also comes with her fair share of emotional baggage. It's eventually Pierre who nudges their blossoming relationship along.
In real life, Hawkins is an animal person and has been a member of the World Wildlife Fund since she was a young girl.
"I don't have any pets because I live in a flat and I think it's a bit cruel to keep them unless you can give them your time and a field to run in. But I adore animals. They make me feel sane. People tell you to avoid animals and children but I think it's the other way around. You know where you are with animals and children and if you are liked by either, I think you know you're okay."
She didn't have as many scenes with the duck as she was expecting on Love Birds but says she watched in awe as the trainers coaxed the ducks into performing. There were 28 Pierres in total, and each had its talent - flying, waddling, sitting in the handbag.
"I fell in love with the trainers, I thought they were incredible. The communication between them was fascinating to watch. I worried about the animals because they are not actors and don't understand and I worried the pressure of film-making would put the animals at risk - there is a lot of running around and a lot of heavy machinery. I worry about that as I would worry about children. But they were incredibly well looked-after," she says.
Hawkins comes across as being as thoughtful and endearingly awkward as her character Holly. Director Paul Murphy says he decided Hawkins was the woman for his film after watching her in the comedy Happy-Go-Lucky. He called her in Britain with his pitch.
"When I watched Happy-Go-Lucky it confirmed that she's got a real natural instinct for performance and the rest is history. She liked the script and we made the money work, so over she came. It was very brief, we only had her for four weeks over the seven-week shoot, but she was a joy to work with and there's certainly a lot of credibility when you have an actor of that calibre in your film."
Producer Alan Harris adds: "The key element we looked for once we got Rhys was we needed someone who people would believe that he would go for and who would go for him. There was no point having this huge mismatch between this incredibly fantastic woman and a loser guy or vice-versa. There's quite a trend Bird lady's animal attraction
He is incredibly good company. He is manic and mad and very fun, and very clever. Instantly, you can't help watch him. Sally Hawkins on Rhys Darby
these days with the Judd Apatow sort of films to go for these kind of loser, slacker kind of guys and they get the most horrendously fantastic woman, when in my experience that unfortunately doesn't happen in real life. So we wanted to set it kind of based more in reality and seeing Rhys and Sally together, there's certainly chemistry there."
Hawkins says she was instantly enthusiastic about Murphy's work when she saw his film Second-hand Wedding, which she thought was "unique", "funny" and "filmed in an interesting way". And she wasn't disappointed when she decided to take on his quirky comedy - he managed to turn what could have been a manic set into a zen-like state, she says. They remain good friends.
Hawkins, who is also rather happy-go-lucky herself, also can't speak highly enough of the younger members of the Love Birds cast. She describes Emily Barclay, who plays Holly's boy-crazy side-kick, Brenda, as being refreshingly genuine and open.
And Beck Taylor who plays Holly's young son Taylor is also one to watch, she says. They have stayed in touch, and Hawkins says she is writing him a letter at the moment, which is long overdue.
But the film's biggest drawcard, is the everyman's funny-man Darby, who Murphy cast before anyone else.
Hawkins says she been a fan of him since the first episode she saw of Flight of the Conchords, and wasn't disappointed with his humour when she met Darby on set.
"He is incredibly good company. He is manic and mad and very fun, and very clever. Instantly, you can't help watch him."
The reason I wanted to go into the business was largely because of comedy. I hugely admire anyone who is able to do it, and do it well. To make people laugh is such a gift, I really admire it."
She was impressed that he was able to apply himself to a convincing romantic lead.
"I can imagine it would be quite scary - he is known for comedy and to try something outside that experience is probably terrifying for him,"
She says she considers comedians the best actors as they have an ability to see both sides of life.
"Comedy is so difficult, that if you can do it, you can do anything. And Rhys can do anything."
But is he, as some are saying, New Zealand's answer to Hugh Grant?
"I suppose. I hadn't seen that before, and I actually think he's out there on his own. He is incredibly charming and, like Hugh, you fall in love with him. When humour and intelligence are combined, there's nothing more attractive, charismatic and endearing than that. I suppose in that way they are very similar, but I think he is definitely going his own way."
LOWDOWN
Who: Sally Hawkins
What: Plays Rhys Darby's character's love interest in romantic comedy Love Birds.
When: Opens Thursday
-TimeOut