English punk funk pioneers the Gang of Four now join the dots from Generation X to Xbox. Russell Baillie reports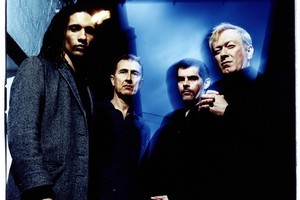 The Gang of Four was possibly the first band to prove that punk and funk could do more together than just rhyme.
While across the Atlantic the early Talking Heads brought a jerky syncopation to their artschool pop, the Leeds quartet's first two albums - 1979's Entertainment! and 1981's Solid Gold - were post-punk rock with a wobbly bottom, a sheet metal guitar sound and lyrics of many "isms" - Marxism, situationism, structuralism and consumerism among them.
In there too was the every-instrument-its-own-space influence of reggae but they certainly weren't the Police. Though some soon-to-be-big bands took notice along the way.
Among them were the Red Hot Chili Peppers ( the Californians' first album was an early producer's credit for GoF guitarist Andy Gill), R.E.M. and Nirvana. Today, the GoF sound has its echoes in the likes of noughties Brit bands like Franz Ferdinand and Bloc Party and a recent wave of wiry New York acts.
Now the band with the original frontline of Gill and frontman Jon King are back. They fell apart in the 80s, their rhythm section of Dave Allen and Hugo Burnham going on to help propel the reptilian funk of Shriekback, while the remaining band enjoyed a brief but fatal bout of commercial success with third album Songs of the Free, and its dancefloor-friendly hit I Love a Man in a Uniform which was banned from British airwaves during the Falklands War of 1982.
Gill and King continued Gang of Four, releasing effectively their finale Hard - "a weird Brechtian version of disco ... it didn't work out very well that record," says King - in 1983.
The original line-up reformed in 2005 to play and curiously re-record some of their earlier material for the album Return the Gift, which came with a bonus disc of remixes by the likes of Yeah Yeah Yeahs, No Doubt, and the Dandy Warhols.
But with Allen and Burnham returning to their American day-jobs (digital tech company honcho and Boston art professor respectively), King and Gill recruited drummer Mark Heaney and bassist Thomas McNiece.
Now the band is on a world tour, which brings them to New Zealand this week for the first time just as their vital new studio album Content also arrives, suggesting the return is more than this week's post-punk cash-in reunion.
It takes a few missed calls to track down King at home in London. One interview goes west because he's out at yoga. Judging by the American reviews of the band's shows, the regime is keeping the 55-year-old suitably lithe and energetic.
So, too, might sessions in front of his X-Box Kinect - part of the band's revival in fortunes has been the use of early track Natural's Not In It for an ad campaign for the Microsoft hardware. Its original lyric "the problem of leisure/What to do for pleasure" might seem apt for the product but its use might seem odd for a band which seemed, on the face of it, anti-capitalist.
"I love Xbox," replies King. Ever since I was able to hit a button on a game I have played games. I think it's really cool. Over the years we've been offered loads and loads of times opportunities to do ads and we've turned them down. But this is the first one that I thought was rather good. I don't actually see it as any different to putting our music on films."
Yes, well their songs did appear in, among others, The Karate Kid and the remake of The Manchurian Candidate. Which makes you wonder if the band's name and the Cultural Revolution connotations made someone in Hollywood think they were from China.
"Ha ha. That's very good. Actually, something we turned down was this really dumb film about this really fit girl who is a welder in Pittsburgh and a dancer in her spare time. So we turned down Flashdance. We thought it was such a stupid plot. All you get sent is a bit of paper saying this is the plot of the film and I thought it was ridiculous that a fit girl who was a welder in Pittsburgh who could become a dancer. I thought it was more realistic that a bloke could become a kung fu expert after painting someone's fence." But back before they were rejecting lucrative soundtrack spots, GoF were angry and arty young men who didn't quite sound like anyone else of their rock generation. Was that by accident or design?
"It was thought-out. I think, when you start off doing anything creative, you first off have to have a go at learning your craft and you copy something - in our case reggae music, dub reggae, funk Dr Feelgood, Free, Rolling Stones and after a while all of those things come together and you realise what you like about it.
"What I didn't like then and I still don't like now is layered music. I think of music and the components parts of it being side by side - drums alongside the bass and the vocals and the guitar. So you want that sense when you are listening to it that you are feeling you could be in the room. It sounds like a simple ambition but it's not that simple to do."
King says that despite his years in the blinking lights of recording studios, his guitarist partner Gill just uses two effects pedals live: one for loud, one for distortion.
"He's not The Edge, who has the processing power of Nasa. We don't do that sort of thing." And on the new album Gill's brittle graunch is as thrilling as ever.
One obvious question about the new LP occurs. Is it Content, as in happy, or Content, which these days has a whole new meaning?
"Very good isn't it? It's either one of those. The use of the word content describes the work of journalists, artists, musicians, painters. Somehow people like us end up becoming software providers to these sort of anonymous multinational corporations who make hardware. Somehow or another it's just providing content.
"It's quite insulting isn't it?. You're not a content provider. You're a journalist. I'm not a content provider, I'm a musician and it's partly finding a word like that that only four years ago wasn't used in that context very much. It's a very new word that has now become a cliche."
King says that live, Content songs like Do As I Say, sit neatly between old tracks like Anthrax and At Home, He's A Tourist. Those songs are older than many of the fans the band has been playing to of late.
"Most people who come and see us are not my age or near my age. Easily 60 per cent of the audience are under the age of 30. It's not a load of fat, bald blokes.
"I think we've got a really smart audience. I love the sort of trouble-making intelligence of people who come to our shows. We are not a commercial band. We don't get played on the radio and anyone who discovers us are like evangelists and missionaries."
LOWDOWN
Who: Gang of Four
When and where: Powerstation Thursday
Also: New album Content out now
-TimeOut