Glamour girl of the moment, January Jones, plays a femme fatale in her first major film since her breakthrough role on Mad Men. She talks to Michele Manelis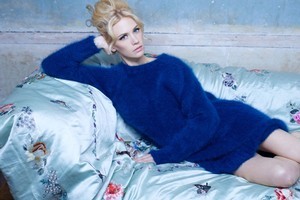 Hollywood bombshell January Jones is the latest blonde du jour gracing red carpet events, magazine covers, and landing prestigious modelling campaigns. She's just been named as the new face of Versace, and Donatella Versace, co-founder of the designer brand declared, "January Jones is the most glamorous woman of our time".
The 33-year-old is in a Beverly Hills hotel to promote her latest movie, Unknown, and she's a little coy about Versace's flattering praise. "I don't know about the 'of our time' bit. I'd say it's probably more accurate to say, 'the most glamorous woman this week'," she jokes.
The South Dakota native, largely known for her role as suburban wife Betty Draper in the award-winning hit series Mad Men, has been able to branch out into more substantial film roles of late due to her increasing profile.
But can all these accolades celebrating her good looks be a hindrance?
"In my work, I'm not always playing these glamorous types. Betty Draper can be very ugly and unattractive sometimes, too. What you see of me on the red carpet is very glamorous but I am lots of different things," she says. "In the role I just wrapped, The Hungry Rabbit Jumps [directed by New Zealander Roger Donaldson], I was not glamorous at all."
Unknown is a Hitchcockian style thriller starring Liam Neeson in which Jones plays the femme fatale. "I really don't want to be compared to the Hitchcock blondes. That really bothers me. I have a lot more fun than those characters in those movies, and I don't know how I'm supposed to live up to that, anyway. I don't want to have to be something that I'm not."
But she is definitely comfortable as a style icon and her outfits have become some of the most talked-about ensembles at this year's events, most notably the Golden Globes and SAG awards. Incredibly, the growing importance of what a celebrity has selected to wear can take precedence over the award for which they're nominated.
"Well, I enjoy that stuff. I love the challenge of, 'Wow, how am I going to up myself when I've worn the best dress I've ever seen in my life?' I mean, the judgment that goes along with what you wear at those events is ridiculous, so I make sure I have fun with it and make daring choices. Otherwise it becomes really boring."
Named after January Wayne, a character in the Jacqueline Susann novel Once is Not Enough, she opted for a modelling career over a college degree, against the advice of her father, a high school teacher.
Her "overnight success" has been 12 years in the making. She landed small roles in movies including American Wedding, Bandits, Love Actually, and a blink-or-you'll-miss-her appearance in Anger Management, but didn't really made a dent in Hollywood until Mad Men, a role that has earned her Emmy and Golden Globe nominations.
"It's a wonderful feeling to be rewarded for all the hard work. I've been doing this for a while now and it's great that success has happened in such a gradual way for me. It didn't happen instantly, and it hasn't taken forever, either," she says. "I've been able to get used to the lifestyle changes that come with it. I couldn't have planned it better, and I got very lucky in the way that it worked."
Jones plays a small but pivotal role in Unknown, directed by Jaume Collet-Serra (Orphan), a movie about a doctor who wakes from a coma to find he is unsure of his identity.
"I loved that my character is so mysterious. You don't know if she's good or bad, or whether you can trust her. You don't even know if she's a figment of the doctor's imagination," she says.
"When I read the script (based on the novel by Didier van Cauwelaert) it was so unpredictable that I had no idea what was going to happen."
Like many young starlets, when Jones first came to Los Angeles she became a fixture on the young Hollywood scene, and was on the arm of actors including Ashton Kutcher, whom she met during an Abercrombie and Fitch shoot (many years pre-Demi Moore). She was also in relationships with Jim Carrey, musician Josh Groban, and more recently, Saturday Night Live's Jason Sudeikis. But, as of last month, Jones is flying solo.
Her next project is in the form of telepathic mutant Emma Frost in the next X-Men spinoff, X-Men: First Class. Jones lights up when talking about this role. "It was such a blast to shoot. It's something that I'd never done before, and I never even thought I'd ever do. I didn't think anyone would want to see me as this kind of mutant superhero type character. It was very alien to me, so it was really fun to step into that."
Not a fan of comic books, Jones did a lot of research.
"I did a lot of reading and I found the comic books to be a lot of fun. They're really smart and exciting. And with my character, I loved that she can't be beaten physically. It's probably the coolest character in the cast," she grins.
But playing an iconic figure like Frost can be a little intimidating. "I had to be fit, obviously, but I'm athletic naturally. I don't like gyms but as Emma is very voluptuous, I didn't do any cardio type of exercise because I didn't want to lose any of the curves or the fanboys would be disappointed. I know I can't please everyone generally, but I want to tell her story as well as I can."
Jones seems a lot more secure in herself than the average, high-strung actress.
"The confidence that I have as a woman has grown as I've gotten older. I feel more comfortable in my skin and I'm confident in my womanhood," she says. "Life is good. I've got no complaints."
LOWDOWN
Who: January Jones, actress and starlet
What: Unknown with Liam Neeson and Diane Kruger, opens today; and as Betty Draper in Mad Men which returns February 27 at 10.45pm on Prime
-TimeOut