With the annual French Film Festival kicking off next week in Auckland Peter Calder talks to one of France's foremost leading ladies, Isabelle Huppert.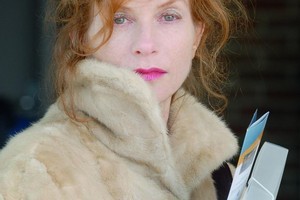 Isabelle Huppert? In a comedy? Say it isn't so.
The striking 57-year-old - a slender redhead with a petite, almost boyish frame, her porcelain-pale skin flecked with freckles - is the finest (and certainly busiest) French actress of her generation. For 40 years, her chameleon prowess - think a French Meryl Streep - has allowed her to amass a list of credits on imdb.com that has just hit 100, more than half of them in leading roles.
But it needs to be said that they include some seriously dodgy characters: she made love to her adult son before slitting her throat in Ma Mere (2004); poisoned her parents in Violette Noziere (1978); sliced her vagina with a razor blade in The Piano Teacher (2001); ran a brothel in the legendary Hollywood flop Heaven's Gate (1980); succumbed to mental illness in The Lacemaker (1977); worked as an illegal abortionist in Une Affaire des Femmes (1988) and played an ex-nun who writes pornography in Hal Hartley's Amateur (1994).
So her role in Marc Fitoussi's Copacabana is something of a change of pace. She plays Babou, a cheerful free spirit whose irresponsibility exasperates and embarrasses her daughter Esmeralda (played by Huppert's real-life daughter Lolita Chammah) to the extent that she refuses to invite Mum to her wedding. To redeem her reputation she has to get a job.
Sitting down to talk to her about the film in Paris before Christmas, I couldn't help feeling a little tongue-tied in the presence of such an elegantly beautiful star whose work I had so long admired; but she dealt with what must be a familiar situation by occupying herself with securing a cigarette from a minder, lighting it and sipping on an espresso.
"It's a departure, for sure," she says of Babou. "But that's what I liked about it. I haven't done a nice character for a long time. I usually play dark characters with much more contradictions."
Having seen her effortless command of the light role, I wonder why she is typically drawn to such twisted and dysfunctional ones: is there more "meat" there for an actress?
"For an actress, going through the dark sides of the female psyche is very rewarding. You express a lot of yourself. Life would be very boring if you were going to play nice, gentle people. It's part of the attraction of the job," she says.
There is no shortage of roles in French cinema for women in their 40s and 50s as French audiences find women more alluring and attractive as they age.
"Certainly the French cinema likes complexity," Huppert agrees. "Characters are often neither sympathetic nor alienating."
But Babou, she explains, is likeable from the first moment.
"I thought Babou was an original," she said, explaining her attraction to the role. "She is not always easy to follow but she has compassion and generosity. She's a rebel but she's true to herself because she wants to stick to who she is. And that's what I liked about this movie: that mother and daughter can love each other and not give up what they are."
"Being true to yourself" is a phrase that crops up often in our conversation. She talks of letting herself be "dragged into a specific world, a specific universe, a specific way of seeing things through the eyes of the director" but adds that the job of the actress is to find herself in the character - she has described acting elsewhere as "a ceaseless exploration of myself".
I can't help feeling that allowing yourself to be "dragged into" such roles as Erika Kohut, the sadistic title character in Michael Haneke's The Piano Teacher must be quite frightening.
"No, it's not frightening," she says. "It's the beauty of doing it, to let yourself be led into the intuition of someone. The more you go with the [director] the more you have the possibility of really being yourself."
The level of trust that would be required to sustain such an approach naturally means that the director dictates whether Huppert will take on a project. In 2009 she collaborated with Claire Denis (Chocolat, Beau Travail) on the brilliant White Material in which she played a coffee planter in an unnamed African country who stays on to harvest her crop as civil war erupts. The white-knuckle thriller, in which she is a morally complex action hero, played last year's film festival.
"It was a very demanding film to make," says Huppert. "It was more than a film; it was whole human experience in the centre of Cameroon."
White Material seems to belong to a clutch of recent French films that re-examine that country's troubled colonial or wartime past, a trend that Huppert applauds.
"I think that maybe it's the intention - not the responsibility but maybe the purpose of some people in the cinema to look back at your past and understand the roots of certain things even if it's difficult. To think about the political involvements of your country."
France's popular culture is much more politically saturated than America's, but Huppert doesn't see herself as a political animal.
Neither does she regard herself as an intellectual - a word that the French take in their stride - even though she chose philosopher Jean Baudrillard as one of her interviewees when she guest-edited an issue of the influential French film magazine Cahiers du Cinema in 1994.
"I am not sure how I would define myself," she said. "Yes, I did the interview with Baudrillard and he is a great intellectual, but I don't define myself as an intellectual or a political person.
"I'm just an actress who, maybe through my choices, tries to end up being in a kind of research."
She is keen to make the point that her daughter was cast in Copacabana before she was. And she says it was not straightforward.
"At the beginning it was a bit awkward, [performing] with somebody who is part of your intimate life. For the first moments we were just laughing. It was difficult to take things seriously."
But she says that playing on-screen parent and child did not awaken old tensions in the real-life relationship. As a parent, uniquely it appears, she has never embarrassed her child, or felt the sting of being condescended to by her offspring.
"No," she says . "It's a unique story which has nothing to do with our own experience. But usually the children are the rebels."
Lowdown
Who: Isabelle Huppert
What: Copacabana screens as part of the 2011 French Film Festival which runs from Feb 16-24 at the Academy Cinema in the city and Victoria Picture Palace, Devonport.
More info: frenchfilmfestival.co.nz
Past films: Ma Mere (2004); The Piano Teacher (2001); Amateur (1994); Heaven's Gate (1980); The Lacemaker (1977)
See also: A small retrospective of films starring Huppert features in the programmes of the Auckland, Hamilton and Tauranga film societies which crank into action at the beginning of next month. See nzfilmsociety.org.nz.