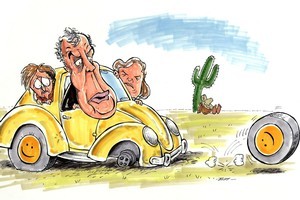 For the Top Gear lads, it was just another day at the office. James May introduced a new Mexican sports car as "the Tortilla", admitted he'd made that up and then Richard "the Hamster" Hammond got down to business.
"A Mexican car's just going to be lazy, feckless, flatulent, overweight, leaning against a fence asleep looking at a cactus, with a blanket with a hole in the middle on as a coat."
May agreed: "They can't do food, the Mexicans, can they? 'Cos it's all like sick with cheese on it."
Hammond: "Refried sick!"
The trio briefly talked about the car before Hammond got back to the point. "Imagine waking up every day and remembering you're Mexican. Awww, no...!"
"It'd be brilliant," said Jeremy Clarkson. "Cos you could just go straight back to sleep again ... That's why we're not going to get any complaints about this because at the Mexican Embassy the ambassador's going to be sitting there with a remote control like this ..." (He leaned back and his chair and faked a snore).
The Mexican ambassador, Eduardo Medina-Mora, did complain. The BBC apologised but said the jokes were based on national stereotypes, which were "a robust part of our national humour".
Normally the carefully contrived rows about bad taste jokes on Top Gear (think gypsies, lesbians and people who drive Skodas) would end there. But British comedian Steve Coogan, best known for his bigoted on-screen character Alan Partridge, had had enough and launched a scathing attack on the presenters and the BBC for defending them.
"[Hammond] reminds you of the squirt at school as he hangs around Clarkson the bully, as if to say, 'I'm with him'," wrote Coogan in the Observer article, which was also published in the Herald. "Meanwhile, James May holds their coats as they beat up the boy with the stutter."
Coogan said Hammond would not have dared to describe Islamic fundamentalists, Africans or Pakistanis as lazy and feckless.
"There is a strong ethical dimension to the best comedy. Not only does it avoid reinforcing prejudices, it actively challenges them. In comedy, as in life, we ought to think before we speak."
So how do New Zealand comedians respond to Coogan's First Law of Humour? Get over yourself, man, says Westie Ewen Gilmour.
"As soon as you can't pick on white, straight men, then we're in real trouble - because that's the only thing left now."
Unlike Coogan, he believes there are lots of very funny jokes about weak people who can't fight back. To prove it, he starts riffing on the Mexican gag - a great car for drug dealers, maybe? The best food poisoning I've ever had?
"Actually don't write that," he says, suddenly horrified. "That lady [New Zealand tourist Sarah Carter in Thailand] has just died of food poisoning."
Doesn't that show there are lines you don't want to cross? Well yes, concedes Gilmour, but they're based around context, rather than absolute moral principles. For some people it's still too soon to joke about Princess Diana's death. Ditto September 11. And the audience is crucial - he can tell a joke 100 times in a pub and get a laugh but it may bomb in front of a corporate audience.
Gilmour says he used to tell a joke about his mate in Greymouth who invited him for a drink with his girlfriend and his sister. (Punchline: he was relieved to find out they were two different people.) After the Pike River tragedy, he kept the joke but moved the location to Cromwell - just to be on the safe side.
He thinks Coogan is being far too politically correct. "It is getting so out of hand now that you can't say anything without someone, who hasn't got anything better to do with their life, complaining about it."
Jesse Mulligan, who writes and performs on TV3's 7 Days and co-hosts the More FM breakfast show, strongly disagrees and hates the PC-gone-mad label.
"It's just a way of saying 'let me laugh at the things I want to laugh at, no matter how offensive they might be'."
Mulligan argues that every joke has a message behind it, no matter how simple or silly.
"The way to judge any joke is [to ask] what are you saying? I think the problem with that [Top Gear] joke is ... they're not really making any wider point, they're not attempting satire - it's just 'Mexicans are lazy' or maybe 'we're better than Mexicans' and that's where it fell down for me."
Mulligan says comedians are always skating the line on what's acceptable, so they have an obligation to question every gag they use. "I've noticed people use the N-word [nigger] on stage a lot more these days and I think that's a really tough one. You're getting laughs from the shock value and I think it's almost impossible to use that word safely."
He agrees that a lot depends on who's telling the joke. Billy T. James could get away with outrageous digs at Maori but a white comedian is tapping into too much history.
Sometimes, he says, the right question is simply: "Is it nasty?"
For instance, Paul Henry's infamous question to John Key about whether Governor-General Sir Anand Satyanand's replacement would "look more like a New Zealander" failed the nasty test. It also flunked the defence that prominent people are legitimate comedy targets because it insulted every other non-white New Zealander.
Has Mulligan ever told a joke and regretted it? There is a slight pause.
Jokes are hard to come by, he says, so if he thinks of something that's funny but borderline for 7 Days he tells it and lets the show's editors decide. Roughly half make the cut.
Sometimes audiences will take a joke the wrong way. He's dropped a line from his act aimed at redneck Queenslanders - a sign at the airport saying "welcome to Queensland. If you were this hot all the time, you'd be racist too" - because the horrified gasp suggested people thought he meant the justification seriously.
Fellow comedian and writer Michelle A'Court won't name examples but admits to occasionally telling a joke she's ashamed of "because it doesn't reflect what I really believe and who I am".
Like Mulligan, she thinks the anti-PC argument is a cop-out.
"We instinctively know what's funny and we instinctively know what's right and wrong but we make mistakes all the time. You make a joke and you go too far."
A'Court says she has no problem with comedians offending people for a good reason but they have a responsibility not to go for a cheap laugh that perpetrates a nasty stereotype. "It depends on who's got the power and who hasn't."
One of her favourite comedians is British stand-up Stewart Lee, who anticipated the philosophical debate behind this week's Mexican jokes in an attack on the Top Gear presenters two years ago. During a 15-minute diatribe, which satirises Clarkson's own "just kidding" style, Lee tells the audience that he wishes Hammond had been decapitated, blinded and boiled in oil in the high-speed car crash that nearly cost him his life.
"Of course, it's a joke," he adds sarcastically, with a knowing look to the audience. "But coincidentally, it's also what I believe."
'If you don't like it, lady, don't come to the show'
If the offensive comedy debate has a defining case, it is probably Frankie Boyle v Sharon Smith.
Boyle, who is one of Britain's most controversial comedians, was making fun of people with Down's Syndrome in a show last April when he discovered that a deeply upset woman in the front row had a 5-year-old daughter with the condition. Most of the media coverage that followed sympathised with the mother, Smith, and condemned Boyle as cruel and insensitive.
But cult American comedian Doug Stanhope argued this month that she had no right to complain about the joke as everyone has a different opinion on what constitutes bad taste.
"A few years back I had a show in Edinburgh where an audience member flew into a teary rage when I casually mentioned the drug Ecstasy," he wrote in Scotland's Sunday Herald. "Her sister had died while taking the drug and the mere mention of the word had her screaming across the venue at me as though I was the one responsible for giving her sister that bad batch.
"I doubt very highly that if Mrs Smith had attended that show that she would have shared in the lady's outrage.
"So if Mrs Smith doesn't feel compelled to take umbrage with everything that someone could find offensive, why should the comedian?"
In fairness to Smith, Stanhope misrepresents a crucial fact here, as she never tried to interrupt Boyle's act.
Smith was visibly upset and her husband was asking her if she wanted to leave. She only revealed her daughter's condition in front of the audience when Boyle demanded to know what they were talking about.
See for yourself
Comedian Stewart Lee on Top Gear