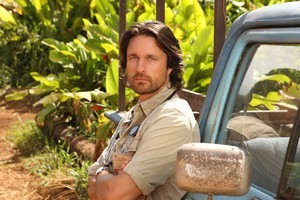 It took an hour (less ads) to watch the first episode of Off The Map (Tuesdays, TV2), starring our own Martin Henderson as Dr McSteamy or Dr McGet Yer Shirt Offy, as the thus far intended to be Dr McEnigmatic. He plays Dr Ben Keeton, who does his doctoring deep in the jungle, in some unidentifiable place in South America.
Is he any good? Oh, hang on a minute. I had other things to think about. Such as spending rather longer than the hour I spent watching the thing, googling the thing. No, I wasn't googling images of Henderson with his shirt off. Do you mind? I knew him when he was in school uniform - on Shortland Street - so the very idea of him taking his shirt off takes a little adjustment of the mind, or eyes. (The poor bugger. No wonder he fled to the wilds of the Amazon jungle, aka Hawaii, to get away from forever being our little Martin.)
Anyway, what I wasted some considerable time on the internet googling was whether it could really be true that, should you, like Dr Ben, ever find yourself in the jungle with no plasma supplies and a need to perform a blood transfusion, use the water of green coconuts.
According to Dr Ben, the coconut juice was used during World War II because "it has the same electrolyte value as blood plasma" - a line which sounded cribbed straight from some site on the internet and the sort of thing you are likely to hear on Shortland Street.
So, just in case you ever find yourself in the Amazon jungle having to perform a transfusion on a pregnant woman who has had something ruptured during an examination by a just-arrived doctor, can you use coconut juice?
Not a clue. Possibly. Or possibly not. (There was a fascinating rumour that JFK was kept alive during WWII by said coconut juice which, alas, turned out to not be true. That would have made a great line.) Just don't try it, would be my advice, although your medical abilities could hardly be much more inept than the three docs who turn up to help Mother Theresa-turned-hunky Dr Ben.
The three docs, or hotties, are two sheilas, the requisite brunette (Lily, played by Caroline Dhavernas), who is good at rupturing bits of pregnant ladies, but not much else; the requisite blonde (Mina, played by Mamie Gummer who is Meryl Streep's daughter) who has a passion for parasites and almost kills an old lady with asthma by failing to recognise she has asthma; and the one requisite shallow hunk (Tommy, played by Zach Gilford), who is a plastic surgeon and who, like the others, speaks not a word of the local lingo, and who goes into the jungle worrying about his designer boots.
Yes, I know, despite the coconut juice tip, that Off The Map is not reality TV. It's the latest offering from the writer of Grey's Anatomy and Private Practice, but it feels like one of those Celebrity Survivor shows where good-looking idiots are sent into the jungle to survive and you're expected to believe they could, while never believing any such thing for a minute.
Sooner or later you know somebody is going to say: "It's a jungle out there," and sooner rather than later, somebody did.
This is silly stuff, but - despite the deep and not even slightly meaningful back stories of the useless docs (they all have tragic medical backgrounds, which really makes you wonder how they got this gig) - it has the merit of seeming to know it's silly stuff.
What's our Martin like? Well, brooding, enigmatic, hot with his shirt off, and that's about it so far. He's a bit of a tease; , at least, he gets to tease us a bit. Was he about to kiss Lily? Nah. He was rescuing her from a. snake. "If I was going to kiss you, believe me, you'd know it," he said, in a brooding, enigmatic, hunky sort of way.