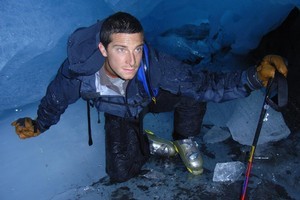 The star of hit show Man Vs Wild is coming to New Zealand next month for two shows to raise money for the families of Pike River and the Wellington Children's Hospital.
Bear Grylls is to speak at Auckland's Sky City Convention Centre on March 2 and at Wellington's Michael Fowler Centre on March 3.
Grylls, who was the youngest Briton to climb Mt Everest in 1997 aged only 23, films in remote locations in the popular Discovery Channel show, showing viewers how to stay alive in survival situations. This includes everything from building rafts, eating exotic bugs and even drinking his own urine.
Grylls served three years in the British SAS and is also the UK's Chief Scout.
Event organiser Jamie Templeton of ShadowCorp Entertainment, has only been following Grylls' show for the past six months, but he said he doesn't miss an episode now.
"One night I was watching Man Vs Wild and just thought it will be cool to get him over for charity," he said. "I thought at this stage Pike River is still a big thing, and the aftermath is yet to really kick in.
"My sister passed away three years ago, so I wanted to do something for the hospital, as the DHB struggles to get funding for it."
Mr Templeton said he had pitched to Grylls' management to get him to come to Greymouth, but was told he wouldn't be able to fit it into his schedule.
"So I thought we'd get him to the two biggest centres," he said. "Basically at his shows he will be speaking about his adventures around the world, such as conquering Mt Everest, and also Man Vs Wild.
"It's a good chance for fans to get up-close and personal with Bear."
Mr Templeton said musician Tiki Taane and comedian Cori Gonzalez, as well as other musicians, will also perform at the shows, and representatives from both the hospital and the Pike River Relief Fund will be present.
Tickets for the Auckland show are available through Dash Tickets from today, while the tickets for the Wellington show are available tomorrow through Ticketek.
It will be his first visit to New Zealand, despite an effort last year by fans to get Grylls to film a Man Vs Wild episode in Fiordland. A Facebook campaign got more than 10,800 supporters.