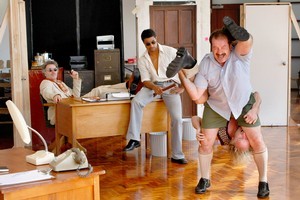 A "forgotten gem of Kiwi playwriting" opens Auckland Theatre Company's season next week. It may surprise audiences who have become more accustomed to comedies of modern manners, where biting satire and black humour are frequently used to sweeten not-so-happy visions of contemporary life and love.
Well Hung is a traditional farce and includes all the elements of the theatre staple: multiple misunderstandings, mistaken identities, larger-than-life characters often in various states of undress, slapstick, sexual innuendo, word plays and chase scenes.
Shakespeare, Moliere, Chekhov, Mark Twain, Noel Coward, Joe Orton, Anthony Marriott, Michael Frayn, Alan Ayckbourn, Dario Fo, Stephen Sondheim and Neil Simon all have at least one farce in their repertoire.
But sometime in the 1980s the curtain came down on the genre, considered out-of-fashion and replaced by supposedly more urbane humour.
Now Auckland Theatre Company is following international trends and bringing farce back, with the comedy by Robert Lord. Lord won the Katherine Mansfield Young Writers' Award in 1969 and wrote plays such as Butterflies and Heroes, Bert and Maisy and Joyful and Triumphant. He spent more than a decade in New York, returning home to take up the Burns Fellowship in 1987 but died in 1991 aged 46.
Well Hung is the most controversial of his early plays. Debuting at Wellington's Downstage in 1974, he took the 1970 murders of Jeannette and Harvey Crewe as his starting point to send up the establishment, police procedures, small town - and big city - mores and marriage.
Ask director Ben Crowder if it's okay to laugh at a play inspired by a crime still unsolved and causing heartache, and he doesn't hesitate.
"Well, what part of the Crewe murders inspired Robert Lord? I don't think it was the tragic and horrible murders themselves. If it was police incompetence and lack of ability, I think it's right ... to poke fun at the establishment.
"Lord was writing in the 1970s at a time when no one was using comedy in such a way. "
As Crowder and the cast point out, the continued questioning of police methods means the discussion Lord perhaps hoped to begin is still very much on-going. "And we all know humour can make a bitter pill easier to swallow," says actor Simon Ferry.
Surrounded by more 1970s household and office appliances than can be found in a second-hand shop, Crowder and actors Carl Bland, Ferry, Adam Gardiner, Dena Kennedy and Pua Magasiva say they are in "retro heaven".
In Well Hung, a rural town is shaken by a double murder on the eve of its annual Blossom Festival. Everyone has something to hide. Young police constable Trev (Magasiva), a womaniser who lives in fear of his mum, is carrying on with Lynette (Kennedy), wife of his boss Bert (Ferry) who has his own unique working style.
Trev and Burt want to arrest the town ne'er-do-well Wally (Gardiner) but city slicker Detective Jasper Sharpe (Bland) is brought in to solve the case. "And he's an idiot," says Ferry candidly.
Gardiner, noted for his portrayals of dazed and confused young men, also plays the organiser of the Blossom Festival, Adam Turner, so he is playing both the lowest and highest status people in town.
"I enjoy playing characters under stress and thwelat an audience can delight in seeing their pain. They're already dealing with extreme stress, they get more and more pressure piled upon them and everyone is keen to see how they'll cope - or not.
"I enjoy this work. I throw myself into it and it's fun. I mean, how many other jobs are there where you come to work and spend all day working out what's the funniest way to come through a door?"
Ferry has grown what looks like a standard police issue 1970s-style moustache while Bland often arrives at work with a genuine '70s artefact found at home and perfect for the set. Magasiva is so used to working on minimalist sets devoid of elaborate props that he keeps breaking things.
As Crowder says, Well Hung incorporates all the high theatricality of farce, including lots of props, five doors and characters in various states of undress.
"It feels like it's been quite a long time since we last saw a professional theatre company put on a farce," he says. "Everything goes through phases, principally because we overdo things, and I think farce perhaps became a bit tired as a form. But now it seems to be making a welcome comeback and that's exciting because it allows us to put fresh energy into the form."
And how does the cast think audiences will react?
Gardiner answers the question by throwing his head back and laughing uproariously.
Performance
What: Well Hung
Where and when: Maidment Theatre, February 10-March 5