The Simpsons' head honcho Al Jean talks to Russell Baillie about how our favourite folk-singing duo landed in Springfield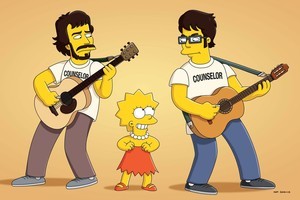 They might look like Bret and Jemaine and they sure do sound like them.
But they are Kurt and Ethan, "counsellors/artistic directors/outreach community liaison" for Expressions Arts Camp, just outside of Springfield.
There, they mentor kids like new arrival Lisa Simpson who has been sent there as a treat while her father and brother help Krusty the Clown pick up his Nobel Peace Prize (which is a whole other story).
Among Kurt and Ethan's lessons to their kids is how to deal with hecklers. Their sample heckle: "I've seen more life in the Wellington Botanic Gardens!" Which leads to a deadpan discussion between the pair - 'if you are not from New Zealand it loses some of its sting" notes Ethan - while both agree said gardens are actually teeming with life.
Welcome to the Flight of the Conchords on the opening show of the 22nd series of The Simpsons.
By TimeOut's calculations Jemaine Clement and Bret McKenzie are the third and fourth New Zealanders to appear on the American television institution, following Sam Neill and Lucy Lawless.
"Four out of four million is a pretty good batting average, " notes the show's long-time executive producer Al Jean on the phone about the number of Kiwi cameos versus our population - though the Flight of the Conchords' appear for half the episode which also comes with nods to Glee care of guest voices Lea Michele, Cory Monteith and Amber Riley.
Effectively, it's an animated encore to FOTC's HBO comedy series which they quit after two seasons.
"I'm a huge fan of their show," says Jean "and we're so pleased they let us basically steal the show. We wrote some lyrics and they did the music for a couple of songs. It was a huge part. We just let them come in and do what they do. I really miss that show so we created half an episode for ourselves."
The idea for the storyline, says Jean, came from writer Tim Long who knew another writer whose daughter had gone to arts camp "and came back all artsy fartsy".
That made both a good plot for Lisa and a way to get FOTC aboard as camp counsellors.
Jean is amused to hear that the joke works on another level here - plenty of young Kiwis head to be counsellors at summer camps in the United States.
Though now the longest running primetime television series in American history, The Simpsons still screens, on average, to nearly seven million viewers - far more than the Kiwi duo's cult hit on pay TV channel HBO.
So Clement and McKenzie were effectively playing to a whole new audience. Did the Simpsons faithful get it when it screened there in September last year?
"Leadership is being ahead of your audience a little," says Jean. "I had never seen the Conchords before they were on HBO. I thought it was hilarious. I got it and I think our fans are certainly smart enough to appreciate that. So long as you give them an "in" - a logical reason for them to appear in the episode - and people love music. So that song that they did stands on its own anyway. I was never worried about that. I hope that we would get new fans through them and they would get new fans through us."
Jean has worked on the show for much of its 22 seasons and spin-off feature film which earned more than US$500 million at the box office in 2007.
He's been the boss since the late 90s. And no he can't seen any end in sight. Though he notes that the voice cast have just come out of a four-year contract and will be negotiating anew.
"It's got more expensive over the years and if the show ever ended I am sure budget would be the difficulty. Otherwise everything is going very well. I don't anticipate it will end soon.
"As a job goes, it's a wonderful place to be. It does make you think everything that happens, it turns into thinking about the Simpsons, whether it's me my wife or kids - you just kind of run it through that filter.
"I am not looking forward to the day when there is no Simpsons to produce."
Or no parent network to tease - The Simpsons has been merciless in sending up Fox and its right-wing news arm.
"They are great sports - the people at the network that we deal with. We have had [owner] Rupert Murdoch on the show twice. They have never told us not to make fun of them. And the Simpsons would have never existed if it wasn't for Fox."
Yes, sometimes they will get pitched guest appearance ideas from outside. But no, Murdoch has never called to say "that Glenn Beck is actually really funny and needs a way to prove it".
"No nothing like that. The network will say [Glee star] Jane Lynch is interested in being on the show - but Jane Lynch is great and if she wasn't on a Fox show I would want her on the show."
LOWDOWN
What: The Simpsons season opener
Where and when: Four, Sunday 6pm
-TimeOut