Rhys Darby goes from funny man to romantic lead in his new movie Love Birds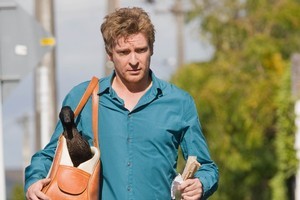 Ditching the beige suit and cropping his thick hair was just the first step towards Rhys Darby's reinvention of himself as the romantic lead.
"I just sort of fell into this role. I wasn't looking to be the next Hugh Grant but I was well aware that New Zealand needed one," he says.
In his first role of this ilk, Darby stars as Doug, a city maintenance man, and mega fan of band Queen, whose life changes when a maimed duck shows up on his property.
He names him Pierre, and the unusual relationship that develops between them leads Doug to the lovely Holly, played by British actress Sally Hawkins.
Holly is a bird expert at Auckland Zoo who offers Doug bird-care advice and eventually sends his heart a-flutter.
She is tailed by her own unusual side-kick, a young and eccentric zoo worker called Brenda (Emily Barclay), who encourages Holly to put her own happiness first and give Doug a fair trial.
Doug and Holly's lives conveniently revolve around iconic Auckland locations lending themselves to post-card panoramas of Devonport, the Harbour Bridge and Bastion Pt.
Production designer Andrew McAlpine (The Piano, The Beach, Aeon Flux) says he had been looking to work with a script that reflected the Auckland he grew up in.
"It's pretty clear to me that the city from my youth is one of the most beautiful cities in the world. I've shot a lot of cities around the world and I'm aware that Seattle, LA, New York, London, Paris, all these cities have a profile. This city has yet to be profiled for the phenomenal physical beauty that it has.
"I wanted to tell the story of an Auckland that is what a New Zealander sitting in a pub in England on a cold winter's day, trying to explain what their hometown is like might describe it as. It's not an Auckland of cafes and trendy restaurants, it's an Auckland of pohutukawa trees, of yachts, of water, of parks where you can play cricket, of sunshine and of fun."
As for the idea of having a duck as a protagonist, screenwriter Nick Ward says the idea grew out of his discovery of an old photograph in a Melbourne bookshop. The image had a man sitting in his front room, with a duck in a paddling pool in the background.
"The duck was obviously his friend and then I thought about a time in my life when I was at my absolute lowest because those are the times when you really need a friend. You need a friend that's going to put up with you during that time and I thought what if that friend is a duck? And that was it. I was away laughing," Ward explains.
He sent the script to director Paul Murphy, who he had previously worked with on Second-Hand Wedding, and producer Matthew Metcalfe, who worked with Ward on The Ferryman. Both were excited by the originality of the project.
"You get a man and a duck together and you know you're going to be in for something interesting," Murphy says. It sure was. Twenty-seven shelducks were trained to perform Pierre's different movements.
"You find some that are good at sitting still, others that are good at walking. It sounds weird. Some can't fly, some can fly but aren't really into it. Arnie's good because he will let you do most things to him, so he's not scared. You can grab him," Darby explains.
Arnie plays Pierre, and is the duck Darby worked most closely with as he specialised in sitting in Doug's man bag.
"Out of the bird range I would say ducks are very pleasurable, because they seem to be quite calm animals.
"When you think of birds, you know, walking into an aviary at the zoo, they are all fluttering about. It's hard to get a connection between a human and a bird because we are just so so different. And to begin with, when I first started picking the ducks up I thought, I shouldn't be doing this, you don't hold a duck.
"Would I work with ducks again? Well, it would be totally based on the script. I wouldn't say I'd do the movie but only if there's a duck in it. But I certainly wouldn't mind."
Metcalfe says Darby was the first actor they cast as he perfectly fit the bill of a slightly nerdy everyman, and brought a profile to the film.
Darby says he had to work hard to get in shape to play the romantic lead, "I had a personal trainer, I ended up getting fitter than he was," he says.
The cropped hairdo also helped him transform from nerdy awkward boss Murray Hewitt to Doug, a more regular guy.
"For the characters I have played in the past, my own hair has always been so long and thick, and when they mould it into this Murray look and for other things I have done as well, it tends to look like a wig. Which I always get. So here we go, for the first time they have actually got rid of a lot of hair, and it's really strange people say 'oh you look so good, you can see your face'," he says.
Hawkins, Metcalfe and Murphy agree Darby suits playing the romantic and they hope to see him carrying films in the future.
"People are used to seeing me go for the gag every time, do some awkward looks, you know and it's all about comedy timing and saying the wrong thing. But here I am really flexing my drama muscles.
"I have kind of tapped into my romantic side. I have looked back at when I first started going out with girls, and my first and second early relationships and how I dealt with the issues that came to the forefront which were pretty much the same scenarios as what's happened in the movie. I was with a girl who I thought I loved but we weren't really right for each other - and then, finding true love. You don't realise what it is until it's put on your plate. We go through the emotions in this film."
Darby thinks a lot of his male Kiwi fans will relate to it, and maybe take it on board as a romantic pointer.
"If I can be romantic and make sense to a girl and fall in love with someone, then it's okay to do that. Because Kiwis tend to be very unromantic and I think that's why we haven't got really great romantic comedy in this country.
"So I would like to think this is going to be it. Bold statement."
LOWDOWN
Who: Rhys Darby
What: Plays the romantic lead in Love Birds
Also starring: Golden Globe award-winning actress Sally Hawkins (Made in Dagenham), Bryan Brown (Breaker Morant, A Town Like Alice), Emily Barclay (In My Father's Den), Dave Fane (Sione's Wedding, Outrageous Fortune) and Craig Hall (The World's Fastest Indian, Outrageous Fortune).
Release date: February 24
-TimeOut