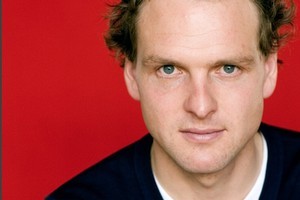 Friday night drinks? Meet me at:
Golden Dawn on Ponsonby Rd.
Where I'll be wearing my new:
Tobe double-skin white high-tops with blue soles.
And this weekend I'm planning on:
Reviewing footage of Gareth Reeve's performance in the world premiere of Julie Hill's new show, I Won't Be Happy Until I Lose One of My Limbs. Due to unforeseen scheduling disasters, he is performing the first half of the season and I the second. I'll be casting my eye over his technique for any obvious errors to be avoided, or even a possible moment of brilliance that I can take for my own performance.
But first I'll need to refuel at my favourite cafe:
Box, the flash new place at the entrance to the Aotea Centre. It has transformed a dull space in front of some doors into a socio-cultural hot-bed.
Saturday evening. If my dreams came true there would be a gig by:
Full F****** Moon, featuring Cortina's Bek Coogan, Torben Tilley and drummer Tooth.
But if there's nothing else doing I'll probably just:
Go home and cry in the dark by myself.
On my stereo/headphones right now is:
The Labcoats, Fikrat Amirov.
The books I can't put down are:
The Book of Job and The Book of Revelation.
The TV show I take the phone off the hook for:
I don't have a television, I believe it is a cancer. To relax, I make love. And I never answer the phone when I am making love, I don't even hear it ringing.
The movie I've been dying to see:
Gold Diggers of 1933 on the big screen again.
A non-cooking Monday night means takeaways from:
The little Indian place down the road - I don't know the name. The butter chicken and paneer one.
Or a splash-out Wednesday night restaurant would be:
Cazador, Dominion Rd. Amazing.
*Jeremy Randerson is in I Won't Be Happy Until I Lose One of My Limbs at the Basement Theatre, until Feb 19, and appears in TV series The Almighty Johnsons starting Monday at 9.30pm, TV3.