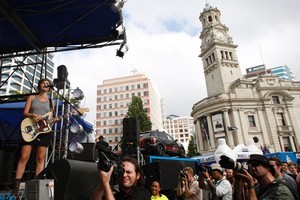 Finally, Auckland City now has a heart.
The challenge is to keep using the new and improved Aotea Square for big, loud, and rowdy events so that it doesn't slip back into being an area that, at best, was a lifeless lunch eating area and at worse a seedy hang out for drunks.
I'm basing my heart of Auckland claim entirely on the success of the Laneway Festival on Anniversary Day, where 5000 music fans listened and danced to 10 hours of non-stop music.
There was much drinking, much revelry, and because of the type of music it was, much ironic postulating about the Flying Nun influence on Atlanta band Deerhunter and whether that menacing lot from Children's Hour should have even been allowed through the gate.
My pick was Holy F*** (or Holy F-word if you like), simply because they were having fun and got everyone dancing. Oh, and the bass player from Warpaint was pretty cute too.
The thing is, this area of the city was made for this sort of event.
Sorry to gush, but Aotea Square was idyllic even, if you were up for the barrage of beautiful noise. And it was easy to get to - even if the trains weren't running, apparently - because I drove the car and parked nearby for free.
Last year Laneway was held at Britomart, and while the concrete jungle location had a certain inner city allure to it, you could have been in any old city. Aotea Square is uniquely Auckland with its back-drop of well-known buildings.
The redevelopment of the square was obviously done with concerts and other big events like the foot-stomping Diwali Festival in mind because with its grassy bits, shady areas, and places to plonk yourself down it is now Auckland's biggest garden bar.
And Splore-City - that can be loosely described as the dance, electronic and soul music version of Laneway - is on there next weekend too, for more good times - although it has been moved indoors to the Town Hall to allow for a later 2am curfew.
Mayor Len Brown was at Laneway and he chatted up, I mean chatted to the girls from Warpaint back stage and considers them his new favourite indie band.
If the man - who was once the hip-hop Mayor of Manukau and could just be the rock'n'roll mayor of the Super City after his on stage performance at Laneway - is to be believed, the square will be used a lot more in the future.
Let's cross live to city hall. Good morning Mr Mayor. How is the hangover after Laneway?
"It's great to have the festival at Aotea Square. It is Auckland Council's number one public space. It will get a lot of use in the future. And [Laneway] has a special place on the Anniversary Day calendar."
Okay. You kind of avoided the question. But following on from what you said yesterday about "going forward" how are you looking at ensuring Aotea Square gets used more in the future?
"It is Auckland Council's number one public space. It will get a lot of use in the future."
I guess we'll take your word for it then. However, quite often concert promoters are reluctant to use council venues such as the Town Hall because they are too expensive. Could there be a deal struck whereby the venues are made more affordable so that the Town Hall and other venues in the entertainment precinct are used more for concerts?
"I want Auckland to be an events city, with a great range of venues for music, dance and theatre. The Town Hall is the people's place, and it should be used as such."
Thank you Mr Mayor. So that from city hall, but I'd just like to say, as a member of the public who had their chewing gum confiscated at the Town Hall before a recent gig (I kid you not), that perhaps they should stop being so precious about the security measures at the grand old place.
It is the people's place after all, and some people tend to chew chewing gum at concerts.
-TimeOut