In the coming weeks, expect to see plenty of new shows - and old favourites - return to the small screen.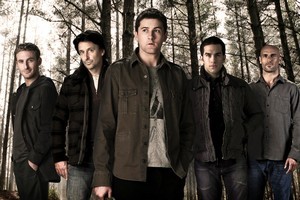 * The Almighty Johnsons (TV3)
Upcoming comedy-drama series The Almighty Johnsons certainly stakes its claim to originality. The show, from the creators of Outrageous Fortune, follows the adventures of four Auckland brothers stuck with watered-down superpowers courtesy of their Norse god ancestors. Here's a sneak peek at the cast of characters ...
Mike (Tim Balme)
- Head of the family. Brought up his three younger brothers in the absence of both parents and takes life way too seriously. Married to mortal Valerie. Superpower: Don't tackle him at poker or Playstation.
Anders (Dean O'Gorman)
- Owner of a boutique PR company and an irrepressible rake. Superpower: Gift of the gab.
TY (Jared Turner)
- Refrigerator repair salesman who's constantly striking out in the romance department; ironic, since at heart he's a romantic. Superpower: Chilling out.
AXL (Emmett Couling Skilton)
- Baby brother oblivious to the Johnson family's true heritage. His imminent 21st birthday party will reveal some life-changing secrets and responsibilities to the clan.
The Almighty Johnsons debuts on TV3, Monday, February 7 at 9.30pm.
* Hawaii Five-O (TV3)
In his TV career, Aussie actor Alex O'Loughlin has headed short-lived series about a vampire (Moonlight), and a cardiothoracic surgeon (Three Rivers). Now he's stepping into some big shoes: those of Jack Lord as Detective Steve McGarrett for a reboot of the early 70s police drama Hawaii Five-0. The original show - and its catchy theme tune - is truly iconic. Not that the 34-year-old, or much of the show's target audience, can probably recall it. "I think I was like 4 years old when it came off the air," admits O'Loughlin. Scott Caan (Ocean's 11) plays his streetwise wingman Detective Danny "Danno" Williams for laughs, plus watch out for familiar faces Grace Park (Battlestar Galactica) and Daniel Dae Kim (Lost).
* Go Girls (TV2)
The local hit drama returns for its third season, and this time Kevin (Jay Ryan) and his female pals are facing the end of their 20s. For some it means their last stab at freedom; for others, time to settle down.
* Drop Dead Diva (TV2)
A shallow model dies but is reincarnated in the body of a chubby, caring lawyer (Brooke Elliott) in this new sitcom.
* Community (FOUR)
E! channel funnyman Joel McHale (Talk Soup) headlines this critically praised ensemble comedy about a suspended lawyer forced to teach at a community college for adults (including comedian Chevy Chase).
* Pretty Little Liars (TV2)
Four teens find their clique falls apart after the disappearance of their queen bee. One year later, they begin receiving messages from a mysterious figure who threatens to expose their secrets.
* America's Next Top Model (FOUR)
It's been a long time coming, but the wannabe models finally get to strut their stuff in exotic New Zealand.
- Ann Newberry
* The Gruen Transfer (TV3)
Why should you watch The Gruen Transfer, which debuts on TV3 next Sunday at 9.30pm?
"It's a show that makes you laugh, but also makes you feel smarter, and everybody likes to feel smarter," says the host, comedian Wil Anderson.
The Gruen Transfer is a witty and informative Australian series that analyses, mocks and investigates the ever-pervasive advertising industry.
"We see on average 3000 commercial messages a day just going about our everyday lives and it's a largely unexamined area of our society. We provide the tools to examine it, " says Anderson.
Previous seasons aired in New Zealand on Comedy Central, and Anderson, who will be familiar to fans of TV3's 7 Days, is excited the show will now be available to all Kiwi viewers.
"We've had many stars of the New Zealand advertising industry on our show because you guys have a rep as being more cutting-edge and experimental than what's going on in Australia."
The Gruen Transfer has a history of good-natured Kiwi-ribbing (in season one, agencies were commissioned to make an ad spot promoting a military invasion of our fair country), and Anderson promises season three has a particularly interesting New Zealand twist. He refused to elaborate, but had this to say about our sense of humour:
"This is a time when New Zealand is realising the awesome comedy talent that it has. My favourite type of humour is that of the underdog. And because New Zealand can make fun of Australia in that way, there's a great underdog status. Like the advertising industry, it's a little more creative and a little more quirky."
Flattery will get you everywhere, Wil.
Oh, and if you're wondering about the title, it refers to mental shift that occurs when consumers enter a shopping mall and lose themselves in a daze of material desire and impulse purchases, as dictated by the design of the mall. Ahhh, capitalism.
- Dominic Corry
- Herald On Sunday / View