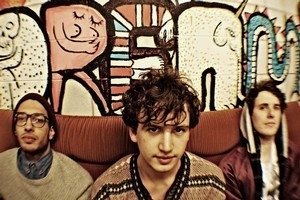 The band rotunda at Auckland's Albert Park will again host a selection of new and (kinda) older bands for the annual 95bFM Summer Series.
Kody & Bic, the unexpected collaboration between Bic Runga and The Mint Chicks' Kody Neilson will headline the afternoon concert, which takes place on Saturday 5th March.
The pair played a well-received debut set at the recent Big Day Out, with TimeOut editor Russell Baillie writing: "there might be only two of them but don't lack for noise. They sound like The Flaming Lips meets The Carpenters. Sorta."
The idea for the double act came from the pair working together on Runga's next album, which Neilson is producing.
Auckland three-piece Popstrangers are also on the bill. The band (like all the lineup, really) are bFM favourites and are working towards their debut album, having already released two EPs.
Keep on eye on nzherald.co.nz in early March for more on these guys.
Last year's Critics' Choice Prize winners Street Chant are playing, as well as Ruby Frost. Both played showcases at the CMJ Music Marathon in New York late last year.
Rounding out the line-up are 1995, The Psychs and The Drab Doo-Riffs, featuring ex-Supergroove frontman, Karl Steven.
This will be the 21st anniversary of the Summer Series.
LOWDOWN
What: The 95bFM Summer Series. Think free afternoon concert.
Who: Kody & Bic, Popstrangers, Street Chant, Ruby Frost, Drab Doo-Riffs, 1995, The Psychs
Where and when: Albert Park, Auckland City. Saturday March 5th, midday till 7pm
What else?: Licensed bar and BYO, Kids bouncy castle, food and market stalls