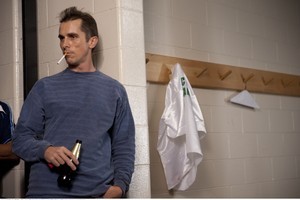 Christian Bale's portrayal of drug addict Dickie Eklund doesn't shy away from the tough stuff, writes Michele Manelis.
He might be best known as Batman but in his latest movie Christian Bale is kind of the Robin. He's what you could call the sidekick to Mark Wahlberg in The Fighter, a movie based on the true story of half brothers "Irish" Mickey Ward and Dickie Eklund. It's a boxing movie but it also exploits the horror and the humour of a wildly dysfunctional family, grapplings with crack addiction, jealousy, betrayal and ambition along the way.
Set against the gritty streets of working class Boston and the innards of a sweaty, old-fashioned gymnasium, Wahlberg and Bale both serve up Oscar-worthy performances, as does Amy Adams (Doubt, Julie and Julia) and Melissa Leo (Mr Woodcock).
It's directed by David O Russell (Flirting With Disaster, Three Kings), and he includes footage from the HBO documentary, High on Crack Street, about the rise and fall of boxing legend Dickie Eklund as he spirals into drug addiction.
Bale walks a fine line as Dickie. The story of the idiosyncratic junkie and ex welterweight champion who once fought Sugar Ray Leonard, who then goes on to train his brother, played by Wahlberg, taking him to world champion status, is at times heartbreaking.
As with all of his roles, Bale takes his research seriously. "I had Dickie hang out with me for a couple of months before we started shooting. I watched the HBO special which shows him going to all the crack houses and his old haunts. He took me to all those places too, and I met many policemen, some of whom arrested him nine or ten times," he laughs. "Seeing him walking down the street, people would hang out of cars screaming, 'Dickie!' Everyone knew him. He's like the mayor of the streets. I just walked behind him, taking it all in," he smiles. "In fact, I don't know if I've completely stopped being Dickie in a way. Parts of him still come out of me and we still chat on the phone regularly. I have a great affection for him."
In order to play the hardcore drug addict convincingly, Bale was required to lose more than 30 pounds. "Of course, to play a crack-head you have to be very skinny. Believe me I don't go looking for that kind of physical challenge but Dickie was a welterweight and I don't naturally look anything like that," he says. Bale is no stranger to transforming his physicality for the sake of his art, as evidenced in the movie The Machinist. He bristles slightly at the inference. "Firstly, I don't know if it's 'art', but I do believe in the idea of pushing yourself as far as you can go. I mean, why not? I like taking things to the extreme. It's worthwhile and it's fun."
It wasn't only the physicality that Bale had to emulate, but to immerse himself into the mindset of an addict took some understanding. He said, "Dickie explained to me how loyalty goes out the window with crack. He said it this way: 'The first time I did crack, and every other time it did me.' He completely forgot what he loved. He lived and breathed his family and boxing but when the crack came along, Dickie would have sold all of that in an instant just to get a little bit more."
Bale, 36, is a lot more effusive than usual in this afternoon's interview, possibly indicating his admiration and respect for the movie. "I recognised from the get-go just how special the script was.
"What I wasn't sure of, because you never can be sure, is whether anyone else would feel that way as well. So, it's wonderful that it seems to be getting some recognition," he says, smiling. "This one feels good."
Wahlberg serves double duty as star and producer of what is his pet project.
"I knew about Mickey and Dickie from a very early age. They were local legends. Nobody missed a Mickey Ward fight when it was televised, and I also had the privilege of meeting him when I was 18. That's probably one of the few times I was actually starstruck," he says. "I always wanted to be an athlete, and meeting one of my heroes was amazing to me. Then, once I started acting, I was always thinking about a great role that I could play, and the kind of story I'd want to tell when I became a producer."
But The Fighter doesn't fall into the generic "uplifting" cliches. "The funny thing is, Mickey's fights were even more dramatic and over the top than the Rocky movies. So the only way to do it was just to do it real and shoot it like HBO fights, which I insisted on. We hired real boxers who got in there and really hit. It was also the most feasible way to do it," Wahlberg says.
But for the real Eklund the resulting movie caused mixed emotions.
"After Dickie saw the movie, he said to me, 'Well, it was great for fucking Mickey, wasn't it? All I get are the shitty bits. I've got no good parts in it.'
Russell says, "Yes, I know Dickie was really worried about how he was going to be perceived. If someone was making a movie about me, I'd be very paranoid too, but I kept saying to him, 'It can't be worse than what you did on the documentary. That was you smoking crack on HBO. With no redemption. In this movie we get to see you when you got sober and how you got humble.'
"But even so, he was very upset after he saw the movie. He said to me, 'I wish I was him, meaning his brother Mickey. I looked at him and said, 'That's the story of The Fighter! You wish you were your brother'."
LOWDOWN
Who: Christian Bale
What: The Fighter also starring Mark Wahlberg
When: Opens Thursday
-TimeOut