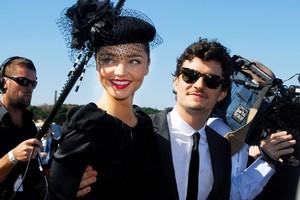 Australian Victoria's Secret model Miranda Kerr has reportedly given birth to a baby boy at a Los Angeles-area hospital.
Website X17online.com broke the news, hours after reports surfaced that Kerr had gone into labour.
The baby, believed to have been born around 8pm on Thursday, is the first for Kerr and her husband, Pirates of the Caribbean star Orlando Bloom.
Kerr, 27, found out she was pregnant while shooting a fashion campaign in Paris, France, following weeks of nausea.
She and Bloom, 33, married last July and announced the pregnancy a month later.
There were reports Kerr had gone into labour on Boxing Day, however a family member told Australia's Herald Sun newspaper that had been a false alarm.
Kerr's parents flew to the USA at the end of last month to be with their daughter for the arrival of their grandchild.
Bloom and Kerr have previously stated they didn't want to find out the sex of the child before the birth and the catwalk beauty has insisted she wants to completely focus on motherhood after the birth.
She said: "For me, family is life. The decision to start one wasn't complex at all.
"My career has been wonderful, but it's not my life. I don't feel pressure to get back to work."
Explaining her vision for the future, she added: "My goal involves a hammock, a vegetable patch, and a solar-powered house. And I hope to eventually get there."
- NZ HERALD STAFF, BANG! SHOWBIZ