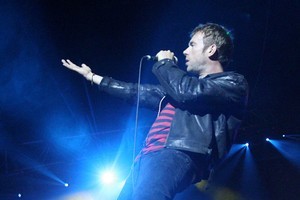 Gorillaz, the cartoon-styled supergroup renowned for breaking new ground in the worlds of music and technology, have notched up another claim to fame.
The band that announced their pre-Christmas Auckland show was to be their last has released The Fall, an album that can be downloaded for free and was largely produced using only an iPad.
"I've never been someone who's embraced technology particularly," frontman Damon Albarn said, shortly after announcing that the Gorillaz would stop playing live in their current format. "I've always tried to keep true to my roots, which was just a four-track and a guitar, but I got given an iPad and I suddenly found myself in a position where I could make quite a sonically sophisticated record in my hotel room."
Albarn, who led the Britpop revolution with Blur, has called The Fall "a love letter to America".
"I used to be very baffled by this place, and I guess I still am in some ways," Albarn said.
"But right now with all that's going on this is a good place to be."
The album was made available to fans who opened the final door of a virtual Advent calendar on the band's website. It can also be accessed as a stream on Gorillaz.com, and a physical release of the record is planned for later in 2011.
While the 42-year-old Albarn made use of 20 applications on his new tablet device to create the album, traditionalists will be reassured to learn that a handful of conventional instruments were also employed. Mick Jones contributes guitar on one track, while Paul Simonon - his erstwhile bandmate in the Clash, now a Gorillaz stalwart - chips in with bass on another.
Gorillaz are not the first major band to release an album for free via the internet. Radiohead put out In Rainbows as a digital download in 2007 employing an "honesty box" scheme. But experts suggest Gorillaz are at the vanguard in recognising how the business model of popular music is changing, with fans able to play games, become an exclusive member of its fan club and buy limited edition artwork all on the website.
Pearse McCabe, brand consultant with Rufus Leonard, a digital consultancy, said finding new ways of building relationships with fans was vital at a time when most younger consumers are reluctant to pay for music.
"The point of entry for bands is no longer dependent on buying an electric guitar and an amp and touring for three years before they gain recognition," he said.
"You can produce music from your bedroom and publish it online. The music market place is becoming really crowded and people are asking what the point of record companies is."
Given the increased competition, successful bands needed to look beyond simply selling records, McCabe suggested.
"It's not just about the music any more; you can sell them merchandise online and hook them up with other brands along the way. It's about building a long-term consumer relationship."
Music industry analysts point to the success of the American country singer Corey Smith, who is reported to have made almost $4 million from touring, merchandise and other revenues in 2008 but gives most of his music away free from his website.
"We don't look at it as 'free'," his manager, Marty Winsch, told the Wall Street Journal.
"When people come to the website and download the music, they're giving us their time, their most valuable commodity."
The release of The Fall marks the end of a busy year for Gorillaz. The group's fourth album, Plastic Beach, was released in March, and hit the top 10 in 21 countries.
The headline slot at Glastonbury met mixed reviews, with Albarn subsequently blaming himself for not properly introducing the crowd to a stellar line-up that included Lou Reed, Snoop Dogg and the Lebanese National Orchestra for Oriental Arabic Music.
The group, whose visual identity is provided by artist Jamie Hewlett, toured the world, including 20 dates in North America and a visit to Australia and New Zealand. After their performance in Auckland, Albarn announced the end of Gorillaz as a live outfit - at least in its present incarnation - saying: "For us, this is the last time."
Albarn made The Fall on the American leg of the Gorillaz tour and the album charts the band's progress around North America.
"I literally made it on the road in America over a month," Albarn said. "I just did it day by day as a kind of diary of my experience in America.
"If I left it until the new year to release it, then the cynics out there would say: 'Oh well, it's been tampered with'." There are also plans for a second record from his outfit the Good, the Bad and the Queen, plus rumours of another Blur album.
- OBSERVER