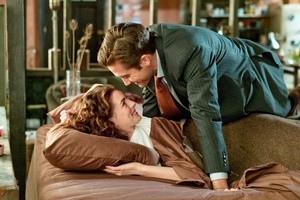 Want to see Anne Hathaway's boobs? I thought as much.
And so did Fox, the studio behind Love and Other Drugs, a new film opening in New Zealand on Saturday, which features not only a frequently topless Hathaway, but also-for the ladies-plenty of her co-star Jake Gyllenhaal's pert, naked bottom. Eager to make the most of its significant investment in celebrity nudity, Fox sent the stars on a high-profile publicity round to talk about being naked, being naked together, and being naked together on film.
Among the many interviews Hathaway and Gyllenhaal gave on the subject was one for the magazine Entertainment Weekly, which printed three separate cover photographs of the pair in the altogether. A comedy-drama based on the true-ish story of a Viagra salesman who falls for a beautiful Parkinson's sufferer, the film's US reviews were middling-to-decent, and made much of its sexual content. And yet Love and Other Drugs failed to break even the US$10million ($13 million) mark in its opening weekend at the US box office. On movie blogs and in studio boardrooms, its underwhelming performance has prompted a once-unthinkable question: if even Anne and Jake naked can't put bums on seats, then does sex still sell?
Thing is, if you want to see Hathaway and Gyllenhaal having sex, you could just go to Google and search for "Anne Hathaway+Brokeback Mountain". One of the first results you'll come across is a clip from one of Brokeback's heterosexual love scenes, in which Anne plays Jake's somewhat forward future wife, mounting him, topless, in the back of a car. In fact, you can already find screen shots of the pair's bare parts from Love and Other Drugs if you search long and hard.
The internet has provided us with free access to many things we previously expected to pay good money for, including pictures of movie stars' breasts. Like music, those images have been devalued as a result. Ten years ago, Halle Berry was given an extra half-million dollars to go topless in the turgid heist thriller Swordfish. The brief scene had no bearing on the plot, but became the movie's biggest selling point.
No studio would spend so much on such a commonplace commodity today, and no audience would bother paying to see it in a theatre. Once, a glimpse of Demi Moore's jugs could garner US$266 million in takings for a film as transparently awful as Indecent Proposal (1993). When Sharon Stone uncrossed her legs to a perspiring police interrogator in 1992's Basic Instinct it became a news story worth US$352 million at the box office. Now you can see so-called "nipple slips" on some newspaper websites.
"Part of the appeal historically of seeing one of your favourite actors naked or having sex on screen was that it was rare," says Jay Fernandez, senior film reporter at The Hollywood Reporter.
"Today, you can trip over a crack in the sidewalk and stumble on sexual content. It's not special any more so it doesn't draw you into the movie theatre."
The advent of the sex tape has demystified celebrity sex and demolished the market in men's publications. Meanwhile, other media have become increasingly permissive. In the US, such hit prime-time dramas as Californication, True Blood and Boardwalk Empire (soon to air in NZ on Prime TV) are more than comfortable with their stars' bodies.
Yet Hollywood cinema remains, for the most part, rather prudish. Inserting a semi-nude scene into a movie without any narrative justification is clearly no longer cost-effective, but why are there so few studio films with sexual themes, in which sex and nudity would come naturally? Everybody says sex sells, so why is nobody selling it? Love and Other Drugs is a rarity: nowadays, most such movies are either European, or independent productions with total budgets comparable to Berry's breast based pay rise.
Well, for one thing, there's the ratings system. While cartoonish violence creeps ever further into films deemed suitable for young people, the rules on sexual content remain stringent. And stricter ratings are a big blow to the box office. In recent weeks, independent producer Harvey Weinstein arrayed his lawyers on behalf of awards contender Blue Valentine, starring Michelle Williams and Ryan Gosling.
The film was originally given the most adult NC-17 rating by Motion Picture Association of America, but Weinstein argued successfully that it shouldn't be punished for its realistic depiction of oral sex, when more "fantastical" sex scenes, such as those in Basic Instinct, received the lower R rating.
The Hollywood marketing book divides its audience into four "quadrants": men under 25, women under 25, older men, and older women. Studios tend to make films designed to appeal to at least two of these groups. In truth, explicit sexual content is guaranteed to appeal to only one quadrant: young men. For everyone else, it can be a turn-off. Studios build their slates around big-budget films that appeal to every variety of movie goer. No movie mogul with their eye on the bottom line will take a risk on an adult sexual drama when they can make the sexless Twilight or Avatar instead.
Today, a studio's annual schedule is more finely tuned than ever. Films that fail to perform in their opening weekend are considered flops and pulled from screens to make room for the next week's release. Thanks again to the internet, the home entertainment market has cratered. Basic Instinct was, in fact, a slow-burner that built its success first on word-of-mouth in cinemas then on VHS. Few films now have the same chance.
Hollywood's answer to declining audience numbers for blockbusters has been near uniform: 3D. "Nobody has done the 3D raunchy sex film, in the mould of The Hangover or Basic Instinct," Fernandez says. "But My Bloody Valentine 3D had some gratuitous nudity [and more than tripled its budget at the box office]. For younger guys who like that kind of movie anyway, it was a draw. The producers said when they were making it, 'We gotta have a sequence of a naked woman running around in 3D', and they did. There is a seven-minute sequence of a semi-naked woman being chased, and you can bet that there were some second weekend viewers who went based on the fact that someone came out of the first weekend and said, 'Dude, you gotta see this'!"
Love and Other Drugs, believes Jacquie Jordan,a Hollywood film and television producer, failed by selling itself with sex rather than comedy. "Anne Hathaway and Jake Gyllenhaal have tremendous star power," she says. "But I looked at the trailer and the title, and I kept asking: 'What is that movie about?' It confused its potential audience. The book it was based on, Hard Sell: The Evolution of a Viagra Salesman, had a far more interesting title- which would have made more sense for a sexual comedy. But Love and Other Drugs sounds to me like they meet, they play hard to get, they fall in love and it turns out she's terminally ill. Shoot me now.
"There's a difference between a movie being 'sexy' and pushing 'sex'," Jordan says. "I don't think movie-goers go to movies for 'sex'. They can watch that at home. But 'sexy' sells in movies: Johnny Depp and Angelina Jolie [in The Tourist]? That's 'sexy'. Anne Hathaway and Jake Gyllenhaal appearing nude on magazine covers probably does more to sell the magazine than it does the film."
- Independent
Love and Other Drugs opens in New Zealand cinemas on New Years Day.