With their debut album behind them and gigs ending this month at Tabac, Auckland band Svelte are planning their next move. By Paula Yeoman.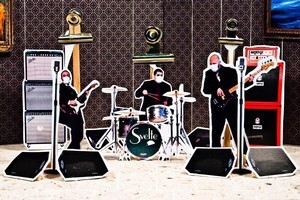 Tim Stewart and Ben Sciascia are no strangers to the stage. They were just teenagers when they burst on to the New Zealand music scene in the early-90s in the funk-blues-rock outfit Supergroove.
Today the pair - alongside drummer Jamie Woolwright - go by the name Svelte and you'll find them in residence at Tabac in Central Auckland this month.
The Wednesday-night slot ties in with the release of their debut album Cat's Paw, which, like the band, had very humble beginnings back in early 2003.
"We started recording stuff in Ben's house. We would make beats out of hitting walls and flicking Sellotape," recalls Stewart.
"We didn't have a drummer," chips in guitarist, Sciascia.
"It was Ben who said, 'you should play bass and we should get a drummer and we should be a band'," laughs Stewart, who had played trumpet and percussion in Supergroove and knew how to play guitar - not bass.
"But he learned, which was amazing," says Sciascia. "He's our most improved musician."
The three-piece was complete when Stewart bumped into an old school friend, Woolwright, the son of Hello Sailor's bassist Paul Woolwright. Together they reworked the songs and eventually released the album last month.
The record harks back to the gritty funk and blues of Supergroove in its infancy. It opens with the stomping Grind Your Bones, which is followed swiftly by the cracking toe-tapper Oh My My.
"Supergroove was a blues band before it became Supergroove. We all love that kind of music, that blues-based British rock'n'roll, Led Zep and the Stones. That's kind of who we are," explains Sciascia.
And so, for this month, Svelte have been lifting the roof at Tabac and plotting their next move.
"We'd like to be in a position where people will book us for gigs and pay us money," says Stewart. "It sounds funny but it's kind of a difficult goal to achieve in this day and age.
"We just want to get out and play. We want to play to people who want to go out on a Friday and listen to some pumping rock'n'roll."
Catch Svelte at Tabac in Auckland on Wednesday at 8.30pm. The band's debut album, Cat's Paw, is out now.