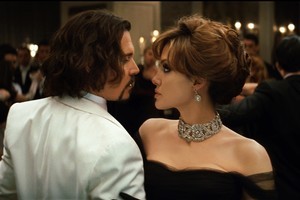 Playing a glam femme fatale opposite Johnny Depp in The Tourist was tough for Angelina Jolie after all those action heroines. Or so she tells Michele Manelis.
It's rare to see Oscar-winning movie star Angelina Jolie in a role where her legendary beauty is exploited. Like her real-life partner, Brad Pitt, she's usually hiding behind her remarkable good looks, taking on roles in which she's covered in battle scars - the likes of Salt, and performing macho stunts in roles such as Wanted, Mr and Mrs Smith, or the Tomb Raider franchise.
Considering the action roles she's evidently so fond of, it's a surprise to see her in an old-fashioned style movie like The Tourist, an old-school Cary Grant/Grace Kelly sort of movie, without the benefit of a Hitchcockian plot. However, when you have Jolie, a celebrated actress and philanthropist, and Johnny Depp, a heartthrob for all ages, details like plot and script are apparently that, merely details.
The relative newbie director, Florian Henckel von Donnersmarck (The Lives of Others) seems to have fallen under the spell of Jolie and features many lingering shots of his leading lady sashaying her way through the cobbled streets of Venice and into the heart of Depp's "everyman", a timid maths professor.
It seems The Tourist is a vehicle which reacquaints Jolie with her feminine side.
The always-candid actress is in New York to promote the movie.
"It takes a long time to be a girl," she says, in all seriousness. "I had to learn patience on this set. I spent a lot of time in hair and makeup and did all these traditional 'girl' things you do to try to look good. There were many wardrobe fittings to make the clothes fit perfectly and be the right colour."
To hear Jolie speak about "trying" to look attractive is akin to hearing Donald Trump spouting cliches to the effect that money doesn't buy happiness.
"Well, in The Tourist, there was so much emphasis on style. It wasn't like Salt, where I was kind of androgynous. In this, I had to have the shoes match the bag, the nails were done every single day. And while it was fun for the first few weeks, I don't think I could sustain being that kind of high-maintenance woman. In my real life I hardly manage to brush my hair. I try to be low-maintenance so I can get up in the morning, get ready and do things with my kids. I don't want to take a lot of time."
Among other symbols synonymous with Jolie, she's arguably an emblem of the modern, multi-tasking woman with a "can-do" attitude towards life. "The woman I play in The Tourist is so different from me. Modern women don't have time to leisurely walk across the street, look at the sky, smell the air. In my first scene I had to walk across the street in Paris. Florian made me go back five times. He kept saying throughout the shoot, 'Slower, slower, slower'," she recalls, laughing. "It became my mantra on this film. I had to learn how to be and act like a lady."
Jolie generally plays morally ambiguous characters and has always leaned towards the dark side. She doesn't totally agree with this theory. "I don't usually play the vixen, and that's not how I saw this character. She's not full of darkness and malice.
"I know people think of me as dark in real life, but I'm not. Florian saw me with my kids, saw me on the set giggling, and has seen me in life. He knows otherwise. "I think maybe a little bit of my mum has rubbed off on me in these last years. 'Hopefully I'm a little softer and more female than I'm sometimes assumed to be."
Her relationship with Pitt and their family life is a hotly debated and endlessly discussed subject - from low-level tabloid fodder to CNN and highbrow news magazine shows - the world is endlessly fascinated with the Jolie-Pitts. In fact, Depp compared them to a modern day Liz Taylor and Richard Burton.
Jolie's eyes widen. "You're kidding? That's such a funny thing for Johnny to say." She laughs. "I take that as a very high compliment and I'm sure he meant it as that."
What sort of tourists are the Jolie-Pitt clan? How does the most photographed family in the world document their own life?
"What drives Brad crazy is that he's in none of the family photos because he's the one who always takes them. It drives him a bit crazy and I need to take more photos, but I have this belief that when you go place you're always watching people taking pictures to 'capture the moment'. My mother used to tell me that it's more important to just live it, soak it in."
While filming in Venice, the couple was able to sneak in a few outings without the paparazzi on their tail.
"We managed to get out, went to museums and we had our Sunday breakfasts at this special place we found. We'd get in our boat, go to the park with the kids and play soccer. And in the middle of the night, Mum and Dad would sneak out in our big plastic boots, wade through the water and go to a great restaurant for dinner."
But life isn't all frothy caper movies and glamorous late night dinners along the Venice waterways. She recently took on yet another ambitious task in the form of her directorial debut (not yet titled) about a controversial love story she also wrote, set in Bosnia during the Balkan wars.
Shot in Bosnia and Budapest there was some controversy from a group called Women Victims of War, a group of Bosnian rape survivors who urged the United Nations High Commission for Refugees to strip Jolie of her title as "Goodwill Ambassador". It seems there were issues over some of the plot points concerning a Muslim woman who falls in love with her Serbian rapist. But Jolie insists the President and the Prime Minister, along with most of the population, are supportive of the movie.
Apparently, some women were misinformed about the storyline. "There was some confusion. It was just one individual organisation of women who were believing gossip," Jolie says. "I had a great experience shooting in these two countries. Budapest was wonderful, and Bosnia was really beautiful. It's a country that's not seen that way very often." It can't be denied that Jolie is a highly accomplished woman, however, it's her beauty that is most often discussed. So what is her definition of a beautiful woman? She thinks for a moment before answering: "When somebody is comfortable, honest and they just are who they are and they live as they want to live, that's what makes someone appealing. A woman has beauty and strength when she's just being herself."
Lowdown
Who: Angelina Jolie
What: The Tourist opposite Johnny Depp
When: Opens at cinemas on Boxing Day
-TimeOut