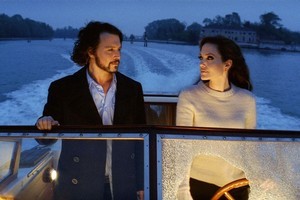 Johnny Depp is well known for the eccentric characters he's portrayed during his film career, but in The Tourist he plays a regular guy for the first time in years, writes Michele Manelis.
We've come to rely on Johnny Depp for bringing the weird. His run of otherworldly characters stretches from Edward Scissorhands in the 1990 film of the same name, right up to this year's Mad Hatter in Alice in Wonderland.
In between, there's been unhinged Ichabod Crane of Sleepy Hollow, demon barber Sweeney Todd, crazy confectioner Willy Wonka and the Keith Richards-inspired Captain Jack Sparrow of the Pirates of the Caribbean franchise.
It's got the once left-field actor into the box office big time, his films having grossed US$6 billion ($8 billion) worldwide.
Now, in The Tourist, Depp tries his hand at normal. He plays Frank Tupelo, a mathematics professor from Wisconsin who finds himself in Europe and in trouble with a mysterious femme fatale, played to the hilt, by Angelina Jolie.
The pair find themselves adding to the glamorous scenery of Venice in a remake of a little-seen French film directed by German Florian Henckel Von Donnersmarck in his first Hollywood excursion since his Oscar-winning The Lives of Others. Depp's character has shades of various hapless Hitchcock heroes.
In mid-town Manhattan to promote the movie, Depp is wearing his usual ensemble of odd pieces carefully thrown together: a fedora, worn jeans, a beige vest over an open shirt, a few jangly chains around his neck, a scarf hanging from his jeans, and black-rimmed glasses.
"What intrigued me about playing this character was that on the surface he'd be considered normal, an average Joe, an intellectual. But when you got a closer look, when he's put into situations that are somewhat uncomfortable, you get to see bits of him unravel," Depp smiles. "His obsession with the electronic cigarette and the incredibly groomed beard, I just wanted to take this normal guy and put him into these situations to play around and sort of see what it would be like. The idea of this grown man wearing children's-style blue-striped pyjamas, running across the rooftops of Venice is an absurd image. I really loved it."
Surprisingly, the two lead actors had never met, especially given that they live most of the year in France and on occasion must attend the same award shows and events. "I'd never met Angie before, but we had an instant connection. She's a terrific girl. She's amazingly kind, smart, funny, strong, most definitely a team player. I really enjoyed every moment," Depp says.
Although the director's resume boasts only one directorial effort, it was enough to impress Depp. "Even before I heard Angie's name, it was Florian who got my interest. I don't watch many movies. As soon as the opening credits come, I'm gone," he says, and illustrates by snoring. "But when I saw The Lives of Others I couldn't believe it was a first time film-maker. It was as near perfect cinema, if that even exists, as possible."
Depp lives in Plan De La Tour, north of St. Tropez, with his actress-pop star wife, Vanessa Paradis, 37, and their two children: Lily Rose, 11, and Jack, 8. However, since Papa Depp is so prolific the family accompanies him on location, and they live where the work takes him.
Part of the reason Depp was interested in The Tourist was that he was able to spend a few months in Venice. As far as being about to experience the city as a real tourist, this meant some additional planning. "I love Venice. The problem for Angelina and I was that the only time we really got to see the city in the daytime was when we were working. My Venice, the Venice that I experienced, was magnificent, but the only time I could walk the streets was from about 10pm till about 2am. There was really no one around so I could feel the poetry of the place. The ghosts of Venice were out," he smiles. "It's a very special, beautiful city."
Depp first came to attention in the TV series, 21 Jump Street. Following the trend of big screen movies adapted from 70s and 80s television series (good or bad), it seems Jump Street is the next one off the block and will star comic actor Jonah Hill. Depp scratches his well-manicured goatee. "There was talk of me playing a cameo but I haven't been asked yet. If they ask me, sure I'd do it. Why not?" He also has some other projects on the boil. "I've been messing around for a few years with the idea of doing The Lone Ranger and Tonto. I think it's time to give the Native Americans their due and Tonto should be represented," he says. (Depp is of mixed German and Irish heritage and also has Cherokee ancestry).
Hailing from America's southern state of Kentucky, and relocating to the south of France, his life as an adult couldn't be more different from his humble beginnings growing up. Does Depp feel like the perennial tourist?
"Not necessarily - not in France. I might be a tourist everywhere else in a weird way, because my line of work, as you know, means I'm constantly on location somewhere, so you are constantly in motion, as it were. But I grew up like that so in terms of that 'Gitano lifestyle',' I don't mind it.
"Also, it's good for the kiddies. They learn about other places, other people and cultures. It opens their minds up to being infinitely more accepting of things that are considered different or odd. So, I kind of like it. I guess I'm a professional tourist, maybe." He pauses.
"My first experience as a tourist was back in 1986. It was my first time out of the country and it was to be in Oliver Stone's Platoon. We landed in Manila on March 5 and two days prior to that, President Marcos had split the country. So, when we arrived there were tanks in the street and people with automatic weapons outside pizza joints. It was surreal."
But like most professional nomads, home is not restricted by geography. "Living in the south of France, it's most definitely more like home than anywhere else, really. But we do have a nice life in Los Angeles, too. I mean, especially if we don't go out," he laughs.
"To me, home is wherever you are, really. As long as you've got your kids and your girl, that's home."
LOWDOWN
Who: Johnny Depp
What: The Tourist, a Euro-thriller with Angelina Jolie
When: Opens Boxing Day
-TimeOut