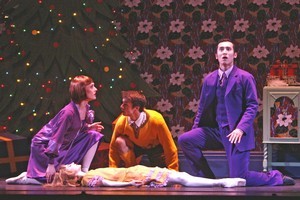 Emotions will be running high on December 9 in Takapuna, for the final night of the Royal New Zealand Ballet's season of their gorgeously zany The Nutcracker. That will be the last day for artistic director Gary Harris, who is leaving the company after nine years at the helm.
"It does feel quite bizarre, quite emotional," he says.
Harris will be leaving on a high note, though, with a production that has been one of his "special babies". The madcap style of the work makes it a perfect conclusion to his work with the RNZB.
"I have loved putting slightly crazy things on stage," he says. "I have loved hearing people really laugh - at the ballet!"
Harris first tickled and tweaked The Nutcracker into new and cartoonesque life in 2005. He dispensed with the role of magical old gentleman Dosselmeyer as the catalyst for Clara's journey to the famous land of the Sugar Plum.
In his version, Clara's remarkably brattish and larger-than-life brother, Fritz, lands her a whack on the head with the Nutcracker, and the whole family heads off to A and E for Christmas Eve.
So it is concussion, and just possibly a side effect of the fearsome medicine administered by Matron, a replacement character for Dosselmeyer - and also danced by the irrepressible and irreplaceable Sir Jon Trimmer - which accounts for Clara's strange adventures.
Many traditional ballets have lost their hearts and souls when plucked out of their natural environs in such a way. But Harris' relocation is clever as well as cartoonesque. Costumes and sets are the work of master designer Kristian Fredrikson, who sadly died soon after the production debuted, and are a sophisticated take on primary colour and thinking just outside the square.
But while the dressing is more The Simpsons than traditional Victorian, the spirit of the beloved original work is still its illuminating force, and romance is very much in the air with snowflakes, soldiers and waltzing flowers, Chinese and Russian turns and the hilarious Mirlitons mingling into the hospital theme.
Playing Clara is Adriana Harper, in her first role since August last year, when a bad landing after a jump in the finale pas de six of Napoli, in Christchurch, tore an anterior cruciate ligament.
"I just remember hitting the floor and the first reaction of all dancers is to get up and continue," she says. "But I couldn't put any weight on it, the pain was too much, and even though there were only about 5 seconds to go, I had to limp off the stage. I knew straight away it was serious. I have seen it happen to others."
While first medical reports indicated only a slight strain, and Harper was walking without her crutches a day or two later, there was a far worse diagnosis once the swelling went down. She required surgery and faced a year of rehabilitation.
Once out of hospital, a busy round of physiotherapy and pilates, slow pedalling on a stationary bike and specialised exercise-based therapy saw Harper back at the ballet barre.
"What dancers do is so full on for our bodies," she says. "It is only since the operation that I have realised that. I started doing squats with no weights. I am only 47kg, and now I can squat with 40kg weights. That's the strength I need for my knee to be dancing."
Harper had an interesting method of dealing with the emotional side of her injury, and the frustration of being sidelined for so long. First she chopped off her hair, and then dyed it through a rainbow of colours from bleached blonde to red, pink, orange and brown, and finally black and green. For her role as Clara she wears a wig - a tasteful light brown in a shiny, girlish bob.
Fans of the recent and popular television series, The Secret Lives of Dancers, might also look out for the final performance of Katie Hurst-Saxon as the young nurse/Arabian.
Lucy Green, one of the company's newest recruits who also starred in the television series, has roles as a snowflake, one of the flowers in Act II and an Arabian. "And I am an understudy for Clara," she says.
"It is most unlikely that I will perform in that role - but it has been a great opportunity."
From The Nutcracker's last night in Takapuna, Harris is "stepping into nothing" he says. He still has a house in London which needs to be redecorated and a garden he is dying to get back to.
"I don't desperately want to be an artistic director again," he says. "Unless it was the right company at the right time."
His life-long passion is in design, and he has "played around" with theatres since receiving a toy theatre as a child. "So design, production, I would love something like that."
Harrris joined the RNZB in 2001, and the company has changed significantly since then. Naturally, individual dancers have changed but Harris is pleased with the way the company looks today, and says it is technically stronger. There have been repertoire changes with each artistic director, but he is satisfied with the current repertoire.
Harris counts Romeo and Juliet, made for the company by Christopher Hampson in 2003, and which won a Laurence Olivier Award for Best New Dance Production, as a highlight of his tenure, alongside seasons of David Dawson's A Million Kisses to My Skin and Plan To A, by choreographer Jorma Elo, the latter to be one of three works that will tour next year to London, Cardiff and France, alongside young Kiwi choreographer Andrew Simmons' A Song in the Dark and Javier Frutos' Banderillo.
"Then there are things like the woman out the front in the theatre in Invercargill who always gives me an icecream," says Harris of the reasons New Zealand has captured his heart.
"There are lots of front-of-house people all around the country who have made my connection here really enjoyable and very special."
And he will be back in August for another major project: a new four-act production of Sleeping Beauty.

What: The Nutcracker with the Royal NZ Ballet
Where and when: Civic Theatre, December 1-5; Bruce Mason Theatre, December 8-9