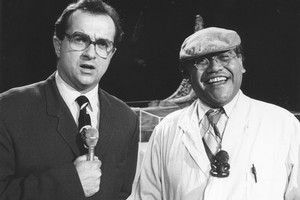 With a new DVD out, Peter Rowley talks to Scott Kara about being Billy T. James' right-hand man.
Billy T. James and Peter Rowley were like Jon and Ponch from CHiPs. Or perhaps Crockett and Tubbs from Miami Vice.
They were different - with James "the hori fella from up north" and Rowley "the honky from down south"- but they worked well as a team. And during their time writing together on The Billy T. James Show in the mid 80s they did a hilarious job of taking off both those American shows, especially with the chest-beating slap-stick of Turangi Vice.
Now, more than 20 years on, Rowley has put together a stand up comedy-meets-This Is Your Life-style documentary about working alongside one of the funniest and certainly the cheekiest person to ever come out of New Zealand.
It's like a trip down memory lane, with footage of all the Billy T classics such as Te News, Lands For Bags ("Where did I get my bag? I pinched it.
Heeheehee."), A History of New Zealand, and Turangi Vice, with the majority of footage taken from 1985 and 86 which Rowley rates as The Billy T. James shows' best years. But with Rowley's stories about how the gags and skits evolved, and the off-screen friendship the pair developed, it also offers a very personal insight into the life of his old mate who died of a heart attack in 1991.
"I haven't really said anything for 25 years about what it was like to work with him," says Rowley. "But I just wanted to focus on the comedic associations, what the public saw but also the humour that went on behind the scenes, and just the fun and laughter that we had in those four years. We were close because we were together for four years and we became good mates and when we wrote I actually lived at his house."
They not only shared a love for comedy, they also both loved guns and used to go shooting together.
"Just target shooting," laughs Rowley. The thing is, they didn't go down to the rifle range. They would buy black and white TVs, load them onto the back of the ute, drive to a secluded spot along Muriwai beach, hook them up to the generator, turn them on and shoot them up.
"They don't explode, they implode, because it's got a vacuum. It's real cool, the pyrotechnics were fantastic," remembers Rowley fondly.
He says they used to go out to parties but James was happier either playing pool, or staying at home blowing things up and having a laugh.
"We were just a couple of kids really, having a lot of fun."
The pair met in a corridor of TVNZ in the early 80s where the unlikely pair bonded by sparring with accents, from Irish and American to the posh lilt of the British most famously brought to life in A History of New Zealand about Captain Cook's dealings with the natives ("Air Hair Leer ... how do you do?").
"I was pretty good [at accents]," says Rowley, "but this guy was really good. His mimicry was sensational. And we started getting into conversations about doing skits that were authentic as opposed to spinning bow ties. You know, wouldn't it be cool to do Captain Cook dressed like Captain Cook, with real muskets, and the Maori look real from back in the day to make it look like a period piece with modern influences."
A few years passed after that initial meeting and Rowley was living in Melbourne when he got a call from James asking him to come back and write with him for The Billy T. James Show.
"It was a real synergy because we bounced off one another constantly. And I was totally okay with the fact it was his show because he was the iconic dude, and I was so privileged to work with him, but when we were together I wasn't bowing to him or whatever. We just got together and it was one of those rare synergies that occur. And I loved being the pakeha dork and his cohort."
LOWDOWN
Who: Comedian Peter Rowley
What: Billy T. James' sidekick
Watch: Billy T. & Me, out on DVD
-TimeOut