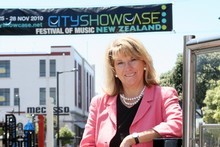 British music heavyweight Nanette Rigg brings her London concept, City Showcase, to Napier as an opportunity for new talent to get noticed, writes Scott Kara, with one band given the chance to take it international.
Nanette Rigg started City Showcase in London, which gave rise to artists like Keane and Amy Winehouse. Nanette Rigg sounds rather too posh to be enthusing about a band made up of five bros from up Kaipara way.
"Oh, I love Soljah," she says of the swaggering reggae-soul band in her almost Ab Fab accent. Although, to be fair, Rigg is more believable and determined than old Patsy.
The British music bigwig, who has worked in the business for many years, including as a director at Polygram Records (now Universal Music), was in Auckland this week on her way to Napier for next week's new music festival, City Showcase.
The New Zealand event is a spin-off of London's City Showcase, which Rigg started in 2003 to discover new musical talent and provide venues for up-and-coming acts to play at. Since then it has helped launch the careers of Amy Winehouse and popular British bands Keane and Razorlight.
New Zealand is the first country to host the event outside of London and a wide range of artists are playing, including everyone from Auckland-based singer-songwriter Lisa Crawley, sonic pyschedelic rock duo Cairo Knife Fight, and local Hawkes Bay country rockers Devils Elbow, through to young acts like The Leers and The Good Fun, as well as school bands.
"We've got Ghost performing too, who's a DJ. I think he's fantastic," she continues in that well-to-do British lilt.
But she's careful not to single out too many of the more than 40 New Zealand, and some Australian, acts playing the four-day festival which includes concerts, workshops, and lectures from key industry players. "All the bands we have are great. Some are younger and need a bit more work, and I want to see them play live to see how they do."
Rigg first had the idea for the showcase in the mid-90s because there were no music festivals, apart from industry and trade shows, to promote new British music acts. Also back in the late 90s and early 2000s in London there was a dearth of live venues for up-and-coming musicians and bands to play at.
"So how was new talent going to get themselves to the position where they can say, 'I'm now worth investing in'.
"And there were hardly any venues to practise in public. So the idea [behind City Showcase] was to find new venues for new talent to play to new people who wouldn't normally pay to go to see them."
She called retailers - both music and non-music stores - and convinced them to host concerts in shops ("there were ladies with their shopping trollies, staring at this indie band playing in a supermarket") and influential alternative radio station Xfm jumped on board.
Along with the likes of Keane, Razorlight, and Hot Chip, the showcase's biggest success story is Winehouse. While the soul-pop diva was already signed to a record deal, Riggs says her performance at the showcase was the first time she had performed to people who didn't already know her.
"So this whole idea of creating momentum around a young artist actually worked. And that's the whole point of City Showcase, to support new talent-and find a way for them to develop their careers."
The public will also vote for their favourite acts in the Finding the Future competition and the top performers will play at the all-day concert at the Soundshell on November 28 - and one act wins a spot at the London City Showcase in May.
"Also," continues Rigg, "by playing City Showcase [in Napier] every band is now being looked at by the UK music industry - our focus is international."
However, she's quick to point out that the Showcase is only a starting point for getting heard - because there are a couple of music mantras that she lives by. Hard work is one of them, and these days musicians have to get their music out to people under their own steam because, reckons Rigg, you don't need a big record deal.
"Every artist is a signed artist," she says. "It's about the public pushing upwards, not the industry pulling."
The New Zealand leg of the showcase had its origins in 2007. Hamish Pinkham, who is also the founder of Gisborne's popular New Year music festival Rhythm and Vines, was working with Rigg and her team running Kiwi nights at the Metro Club in London during City Showcase.
"It was from that that Hamish said, 'why don't we do this in New Zealand?"'
They settled on Napier because it has a cafe culture, a seaside location, and what Rigg describes as "a Riviera feel".
"I know," she smiles, "musicians like to go places where they can have fun as well as work. We also didn't want it to be where things were already happening. We needed an urban place, because it's about bringing a music festival into the urban environment.
"I see the showcase growing into something where people will pitch their tents at Kennedy Park and turn [the city] into a music village."
LOWDOWN
What: City Showcase, the London talent-spotting music festival comes to New Zealand
Where & when: Napier, various venues, Nov 25-28. All-day concert, The Soundshell, Marine Parade, Nov 28
More info and line-up: cityshowcase.co.uk
-TimeOut
By Scott Kara @scottkara

Email

Scott