Rating: 3.5/5
Verdict: Compelling less-is-more post District 9 alien invasion flick.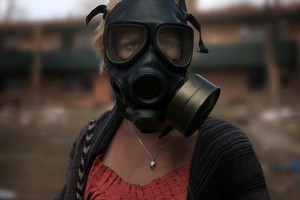 The synopsis for Monsters makes it sound like a classic sci-fi flick about an alien invasion on earth, but it is far from it. Dreamy, allegorical and sparse, Monsters is a little unexpected genre hybrid, a romantic road trip movie that just happens to be set within alien inhabited Central America.
If "monsters" proper are your thing then you'll be sorely disappointed by the lack of them; they're the CGI supporting cast members who occasionally appear to steal a scene or two but spend most of their time just threatening to turn up.
Needless to say then, Monsters lacks big blockbuster style visual effects, opting for a more poetic, eerie and suspenseful atmosphere. Written, directed and shot by Brit Gareth Edwards, a visual effects creator by trade, Monsters prides itself on being made on a tight budget with a crew of four and a cast of two, shot on a high speed digital camera in three weeks in remote, unplanned locations throughout Guatemala, Belize and Mexico.
Considering this, it's an impressive effort, mostly because it looks so much better than it should.
The landscapes are dark, moody and yet picturesque and the special effects that do feature are well done and create a convincing alien-inhabited environment. Edwards has shot this handheld, but avoids the normally shaky, urgent approach often associated with this style, using it instead to build the intimacy between the two main characters, Andrew and Sam.
Taking its cue (a little too much) from District 9, Monsters is an allegory about immigration and kicks in six years after aliens arrive on earth via a Nasa probe that crash landed in Mexico. The United States has quarantined the "infected zone" where these gigantic squid-like "creatures" roam, and has built a large and pointless wall around its own border to keep them out.
Andrew (Scoot McNairy), a photojournalist working outside the infected area in Mexico is annoyed to be given the responsibility of getting his boss's daughter Sam (Whitney Able) out of the area and back to the United States. As their options for travel diminish, they are forced to head through the infected area.
Able and McNairy were a couple at the time of shooting and it helps immensely as it's what they don't say rather than what they do say that matters most. The dialogue is minimal and not as strong as it should be, which is the risk you run when the actors are left to improvise. Their journey is the heart of this film, and even though their performances are uneven at times, they do their job keeping us interested.
Monsters isn't perfect but it's a good example of what can be achieved on limited resources, and if you don't let the overly obvious comments about the United States' complete disregard for anyone or anything outside of America get to you, then this is an enjoyable and unique slice of sci-fi.
LOWDOWN
Cast: Scoot McNairy, Whitney Able
Director: Gareth Edwards
Running time: 94 mins
Rated: M (offensive language)
- TimeOut